10 Best Non-Marvel And Non-DC Movies Based on Comic Books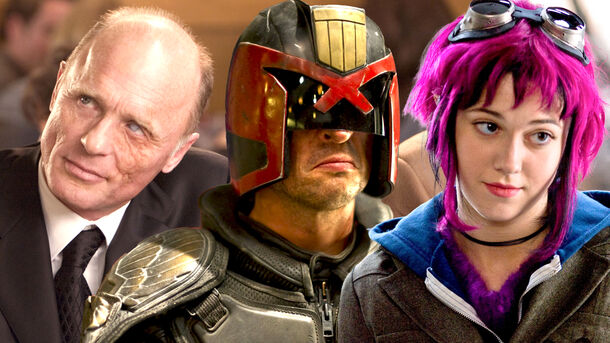 We bet you didn't know some of these movies were based on comic books.
People are talking more and more about how tired they are of the same old superhero stories from Marvel and DC. Some even say that comic book movies just aren't cutting it anymore.
However, there's a wild world of comic book movies outside of these giants that need some serious love.
1. The Rocketeer (1991) — Based on The Rocketeer by Dave Stevens
The Rocketeer is a nostalgic throwback to the golden age of Hollywood, complete with gangsters, Nazis, and a jetpack that everybody wants.
Cliff, the main hero, stumbles upon this contraption and finds himself being a flying target. The '90s film does a brilliant job capturing the essence of the original comic. If you're into vintage settings with a sprinkle of adventure, this one's for you.
2. The Crow (1994) — Based on The Crow by James O'Barr
Dark, brooding, and deeply emotional, The Crow isn't a typical comic book adaptation. After a tragic event, Eric Draven returns from the grave to avenge his and his fiancée's deaths.
The gothic atmosphere paired with Brandon Lee's haunting performance (sadly, his last) creates a movie experience that lingers. It's gritty and raw, with a rock soundtrack that'll make your heart race. The Crow is poetic justice personified.
3. American Splendor (2003) — Based on American Splendor by Harvey Pekar
American Splendor is a refreshing blend of reality and fiction. Harvey Pekar, an ordinary file clerk with an extraordinary outlook on life, shares his day-to-day experiences in a comic form.
The movie brilliantly meshes Paul Giamatti's performance with the real-life Pekar. It's like watching a comic book come alive in the most human way possible.
4. Scott Pilgrim vs. The World — Based on Scott Pilgrim by Bryan Lee O'Malley
The movie follows Scott Pilgrim: a lovable, slightly clueless bass player who falls for Ramona Flowers. There's just a teeny problem: her seven evil exes.
This movie is visually dazzling, bursting with color, music, and quirky humor. Edgar Wright manages to pack in the essence of the comics, making it a true treat for fans and newcomers alike. If you love video games, rock music, and love stories with a punch, Scott's your guy.
5. A History Of Violence (2005) — Based on A History of Violence by John Wagner and Vince Locke
Don't be misled by the title. While the movie does have its share of violent moments, it's more about dealing with the repercussions and how past actions can unexpectedly return to confront us.
The story revolves around Tom Stall. His serene life takes a turn when a courageous deed brings his concealed past to light. Viggo Mortensen brilliantly embodies this role, captivating viewers with his detailed portrayal, all while the plot keeps you on the edge of your seat.
6. Dredd (2012) — Based on: Judge Dredd by John Wagner & Carlos Ezquerra
Dredd isn't a typical superhero movie. The film is gritty, intense, and packed with action. It's set in a future where "judges" are the law. The visuals are stunning, and the story is riveting.
And for a fan of the comics, it's a pretty faithful adaptation. Definitely not for the faint-hearted, but if you're into post-apocalyptic justice, this one's for you.
7. Hellboy (2004) And Hellboy II (2008) — Based on: Hellboy comics by Mike Mignola
Ever heard about not judging a book by its cover? Well, that advice goes perfectly for Hellboy. He might look like a devilish monster with a mean right hook, but deep down, he's a softie.
Directed by Guillermo del Toro, these films combine supernatural elements with humor and heart. Ron Perlman's performance as Hellboy is iconic.
8. Road to Perdition (2002) — Based on: Road to Perdition by Max Allan Collins & Richard Piers Rayner
Tom Hanks in a comic book movie? Yes please. This one's a little different. No superheroes, just raw human emotions. It's a heart-wrenching tale of a father and son on the run during the Depression-era.
Beautifully shot and profoundly emotional, it's more of a period drama than a typical comic book movie. But that's what makes it so unique and compelling.
9. Ghost World (2001) — Based on: Ghost World by Daniel Clowes
For those days when you're feeling a tad nostalgic and a bit quirky, Ghost World is the go-to. The film is a beautifully quirky tale about two teenagers, Enid and Rebecca, who find themselves in the weird phase between high school and "real life".
Scarlett Johansson and Thora Birch are incredible. It's indie, it's artsy, and it's a fresh break from the action-packed comic book adaptations we are so used to.
10. Men in Black (1997) — Based on: The Men in Black by Lowell Cunningham
This one is tricky. Technically, The Men in Black comic book rights are now owned by Marvel Comics, but originally, the comic book was created by Lowell Cunningham and published by Aircel Comics, later purchased by Marvel.
Will Smith, Tommy Lee Jones, and a bunch of extraterrestrial beings, — that's what made us all fall in love with this adaptation. Before they were a global franchise with sequels and spin-offs, the Men in Black were just a pair of sunglasses-wearing dudes from a comic book.
Did you know that these movies were based on comic books?