5 Best Friday Music Releases to Listen to Tonight (April 29)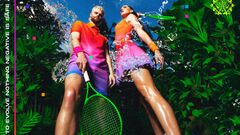 No fresh stuff in your playlist? We got you.
Friday is the day of new music releases, and it is sometimes really hard to quickly catch up with the coolest tracks among all the new stuff.
STartefacts has taken the liberty to highlight five of today's best releases for you to add to your playlist right now – from hot bops to some rock and neo-soul.
Justin Bieber – Honest (feat. Don Toliver)
Bieber seems to be reluctant to leave the top charts any time soon. In 2021, he rolled out a new album titled 'Justice', with some songs from it still rocking the radio stations. 'Honest', Bieber's first track released this year, is his new hip-hop take with Don Toliver.
Stream it:
Sofi Tukker – Summer in New York
In fact, if you're getting tired of pop songs using the 'Tom's Diner' sample, you might want to check out other tracks on Sofi Tukker's new album 'WET TENNIS' that was released today.
But if you're totally down for the new takes on the classic samples, then 'Summer in New York' is for you.
Stream it:
Sam Smith – Love Me More
Sam Smith is storming the Friday charts with their new self-empowering ballad 'Love Me More'. If you're struggling with giving your precious self as much love as you deserve – let Smith help you with that.
Stream it:
Arcade Fire – Unconditional I (Lookout Kid)
This is not a drill – Arcade Fire is here with a fresh single 'Unconditional I (Lookout Kid)'. What do we learn from this one? No one's perfect, everyone makes mistakes, and it's totally fine. Without it all, we would be boring. Soothing and uplifting at the same time, this is a must-have for the Friday playlist.
Stream it:
Kehlani – Everything
The neo-soul singer Kehlani is finalizing our little top 5 with her new album 'blue water road'. Aside from the already released singles 'Up at Night', 'Altar' and 'Little Story', check out 'Everything' – a heartfelt reflection on all things sad, to finally let go of them and be happy.
Stream it: