'Armor Wars': Fans Don't Really Want Don Cheadle Solo MCU Series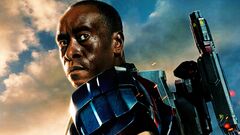 The long-awaited Disney+ series has finally received an official filming date, but many fans don't really understand all the hype surrounding the project.
Announced back in 2020, 'Armor Wars ' will focus on James Rhodes aka War Machine, a close associate of Tony Stark who also flies around in the cutting-edge armor suits to keep the villains behaving themselves. Don Cheadle has played the role for nearly 10 years, appearing in many MCU movies and series as a supporting character, and in that time has amassed quite a following. So, it's no surprise that Feige and Co. have decided to reward the actor with his own solo series, scheduled to shoot in Atlanta this fall.
However, some avid Marvel Comics fans are still stunned by this happening, wondering about the whole idea on Reddit. Come to think about it, it really is strange that a "boring", as fans put it, guy in an armored suit gets his own show earlier than the Hulk or other underrated but really interesting heroes.
"Ruffalo of course, solo Hulk project is lit. But Don Cheadle and a War Machine project I wouldn't say is deserved lol. I'm shocked he's got as much of a role in movies like Endgame to begin with." – /WolfOfWingStreet.
Despite this undeniable fact, some argue that War Machine was largely mishandled in the MCU, and that his version in the original comics is more than capable of being called a truly curious character.
"There are some disabled veterans who would probably disagree with you. It's not his role in the comics, and they haven't really focused much on it in the MCU, but he's capable of being something more at least." – /tehawesomedragon.
However, many people still believe that the MCU will do this soldier justice by transforming him to a complex, intriguing character in the upcoming series.
"I would love to see them really dive into his character the way they dived into Wanda's trauma or Echo's backstory. I trust them to show us compelling new sides of these characters with the extra time they get with a Disney+ series at this point." – /cred_twos.