Behind-the-Scenes Drama That Ended Megan Fox's Transformers Days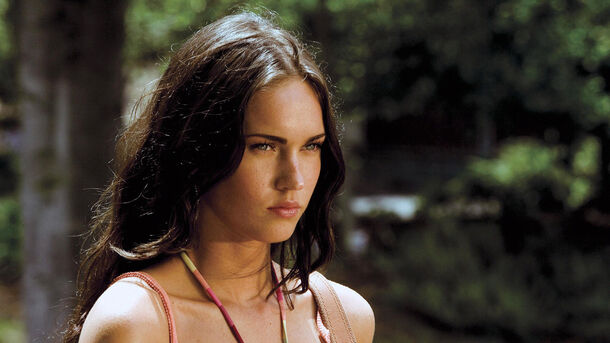 She was the biggest movie star in Hollywood, then disappeared.
There was a brief period when Megan Fox ruled Hollywood. The actress exploded onto the scene in the original Transformers in 2007 opposite Shia LaBeouf, and reprised her breakout role as Mikaela Banes in the sequel, Revenge of the Fallen, two years later.
Then she disappeared.
The drama that contributed to the demise of Megan Fox and her Hollywood career is quite a saga. It's also a cautionary tale of what happens when a young, headstrong actress clashes with the director of a major summer blockbuster.
Megan Fox breakout performance in Transformers
Megan Fox went from a complete unknown to one of the biggest and brightest stars in Hollywood in a very short time. The Tennessee native moved to Los Angeles in the early 2000s, where she earned a modest income playing various supporting roles.
However, being cast in the Transformers was exactly what Fox needed to transform her career. The breakout performance brought her a lot of attention as a sex symbol, appearing in various magazines including FHM and Maxim. It was even rumored that she was dating her co-star Shia LaBeouf.
The year continued with several accolades including two Scream Awards and four Teen Choice Awards. It was obvious that Megan Fox was here to stay in the hearts of adoring fans. However, in 2009 everything came crashing down.
Megan Fox opens her mouth, and gets destroyed because of it
At the time, it seemed that nothing could stop Fox on her way to Hollywood's A-list. But it turns out that one publication is enough to ruin even such a promising career.
In the 2009 interview with Wonderland while promoting the upcoming sequel, Revenge of the Fallen, Fox opened her mouth and regretted it forever. During the interview, Fox compared Transformers director Michael Bay to Adolf Hitler.
"He's like Napoleon, and he wants to create this insane, infamous madman reputation. He wants to be like Hitler on his sets, and he is."
It was obvious that Fox had clashed with the director of the Transformers sequel, but many thought this remark was totally out of line. Nevertheless, she didn't stop there, further embarrassing the filmmaker by calling him "hopelessly awkward."
Hitler comparison creates Hollywood backlash
There is no doubt that the rest of Hollywood did not take kindly to these comments. Steven Spielberg, who served as an executive producer on Transformers, was reportedly appalled. It's been documented that Spielberg called Michael Bay and demanded that Fox be removed from the set.
At first, Michael Bay was reluctant to fire Fox because he thought the comments were made to get a reaction and more attention. However, Speilberg's insistence was enough to convince Bay that he needed to fire her immediately.
Of course, Speilberg never confirmed these rumors, but it seems pretty obvious that he was behind the dismissal. Transformers recovered and replaced Fox with Rosie Hungtington-Whiteley, while Megan Fox's career took a nosedive.
Megan Fox's recovers from being blackmailed by Hollywood
The fallout from Megan Fox's 2009 Wonderland interview was extensive. Not only was she fired from the Transformers franchise, but she struggled to find decent roles after that.
She appeared in the disastrous Jennifer's Body (which is now enjoying a comeback as a cult classic) before finally making amends with Michael Bay in 2014. The Hollywood producer and director offered her a role in Teenage Mutant Ninja Turtles, a gesture that seemed to indicate Bay was ready to move on from the past.
More recently, the 37-year-old has enjoyed a bit of a resurgence of her own, starring in films like Expend4bles and confirming that she is engaged to rapper Machine Gun Kelly.
Source: Wonderland, GQ.