What makes Eddie Munson of 'Stranger Things' so iconic in the eyes of fans?
A star of Season 4 in his own right, Munson has a rebellious attitude towards life with an obvious "don't care" behavior when it comes to the opinions of others. He is quirky, has a smile that could make fan's hearts skip a beat, a grungy heavy metal-inspired style complete with a ripped denim jacket, band T-shirt, and chunky rings; and last but not least, an 80's hairstyle that forms a key part of his look.
It was no surprise to learn of fans' disappointment when they learned that for the role of Eddie Munson, Joseph Quinn wore a wig. The actor in real life sports a rather short, clean cut style when it comes to his hair. Stranger Things hair designer Sarah Hinsdgaul revealed that Eddie Munson's hair was inspired by that of the late Eddie van Halen, known as one of the greatest guitar players in history. Eddie van Halen co-founded the band Van Halen which eventually earned a place in the Rock and Roll Hall of Fame. Looking at both the "Eddies" side-by-side, the similarities are undeniable, and "Rock and Roller" Eddie van Halen seems to be the perfect source of inspiration for Eddie Munson's character.
However, fans have noticed a resemblance between Eddie Munson and another famous musician that is even more remarkable.
An icon that the younger generation of today is definitely not as familiar with is Kirk Lee Hammett. Hammett is a songwriter and the lead guitarist for the world-famous heavy metal band Metallica, who is still rocking out today. At one point in his career, Hammett was ranked 11th out of 100 of the Greatest Guitarists of All Time by Rolling Stones magazine.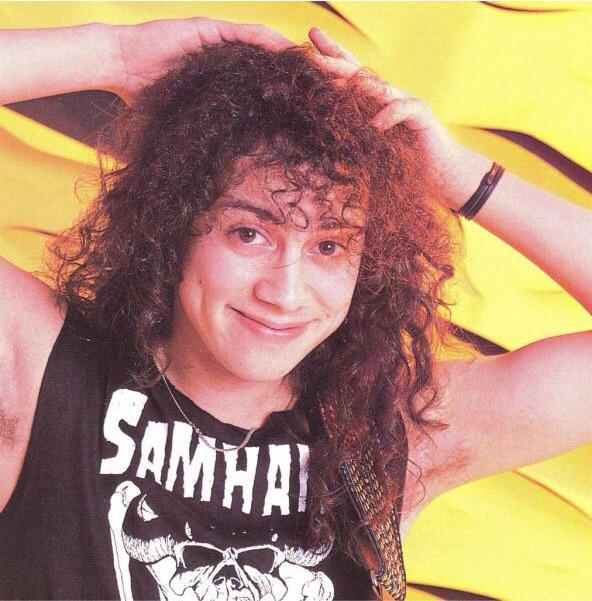 In comparing Eddie Munson and Kirk Hammett, the two have way more than just the hair in common. Although Hammet is now close to 60 years old, photos of him in his younger days bear an uncanny resemblance to the character played by Joseph Quinn when put side to side. One specific photo of young Kirk giving the camera a coy smile could be mistaken for Eddie Munson at a glance, and vice versa. It's in the hair, the wide smile and defined dimples, the round, deep brown eyes. And the style of clothes he chose to wear of course.
Although it was confirmed that Eddie Munson's look was inspired by Eddie van Halen, fans are speculating that elements of Kirk must also feature to some degree in Eddie's character. Munson's factual likeness to Kirk is undeniable, the character is already a fan of Metallica (let's not forget the scene where he shredded the song Master of Puppets by Metallica on his guitar in the season finale in the Upside Down) and fans have pointed out that his style is more similar to Hammett than van Halen. The theory is that Joseph Quinn was cast largely because of his likeness to Kirk Hammett.
It seems that producers of the show have not commented on this, however, since their music was featured on the show, Metallica actually invited Joseph Quinn backstage at one of their tours in Chicago to meet them, he also got the chance to play guitar for them, to commemorate his hard work in learning to play for the series.