Emma Mackey Almost Rejected Her Iconic Sex Education Role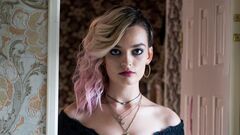 Luck only comes once, and you don't want to miss it.
Sex Education is one of those shows that we can proudly call revolutionary, if not epochal. The series quickly became a hit on Netflix and found an audience far beyond high school boys and girls, to adults as well.
Since the show premiered in early 2019, it has already filmed three seasons, each of which has become increasingly popular among viewers.
The main reason, of course, is the show's subject matter, which is something new to television: sex education. But the cast has had a huge impact on the show's success.
As it turned out, though, joining the show wasn't the first choice for some of them.
Emma Mackey, who played Maeve brilliantly, was actually reluctant to join the show at first. It wasn't that she didn't like the show or that there were scheduling issues.
Mackey's hesitation was actually because she understood how difficult it would be to participate in the process of television filming. "I wasn't sure if I was even going to do it" she once shared in the interview with Elle.
The thing is, she had never been on a TV show before, so she didn't expect much from the process. Instead, she was really blown away by the high standards.
And as she shared, when she went on to work on other projects, she always compared the process and realized how professional the cast and set of Sex Education was.
Over time, however, Mackey realized that the role of Maeve was too special to let go of. She felt the character was just too compelling to give up.
And she was right, because now it's almost impossible to imagine Sex Education with anyone other than Emma Mackey playing the complex character of Maeve.
Fans of the show are excited that she accepted the role, and those same fans are upset now that the news has spread that she'll be leaving Sex Education after season 4, which is expected to be premiering on Netflix in summer 2023.
Source: Elle