Fans Praise SF9's Zuho Response to Haters About Him Acting in BL Show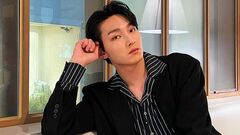 South Korea is still a very conservative country, despite younger generations being more and more open-minded. When it comes to LBGT+ media, there is still a long way to go for it to be fully accepted among the general public. However, recently such content became a hot topic among Koreans.
Semantic Error, Boys Love drama starring KNK's Park Seoham and DONGKIZ's Park Jaechan, almost instantly became a hit. A story about refreshing chemistry between a temperamental gamedev artist and an unresponsive programmer was loved by fans from all over the world. After this, the Korean film industry didn't miss a chance to jump on a hype train. Previously, mostly indie studios dared to create LGBT+ series, mostly in a web short format, as an experiment, and BL parodies done by idol groups were mostly seen in a joking manner. However, nowadays even more actors can be seen announcing their decision to act in various BL shows and serious stories, inspired by Semantic Error's success. K-pop idols take part in such projects as well, even despite the possible consequences of the filming affecting their image which is usually already hard to uphold.
Unfortunately, the opportunity for the artists to challenge themselves in new roles and stories also gave excuses for haters and conservative people to express their disapproval.
The upcoming Korean BL drama Starstruck, starring SF9's Zuho, Kim Insung, and Park Taein, started receiving hateful and homophobic comments right after the announcement. SF9's Zuho took his time to politely address this issue on his live stream. He said to him everything in the world is precious, and insisted he didn't see anything wrong with wanting to play different roles. Zuho explained it's wrong to treat anything with prejudice and that everyone should receive love. Concluding his talk, the idol asked to view his upcoming drama in a positive light and for all people to embrace everything in life without judgment.
Many were touched by his supportive and open-minded message, as well as sincere life advice. The fans admired him for speaking up honestly yet kindly to hateful comments. They wish for Zuho and his co-actors to successfully finish filming his drama, making it another hit, and for South Korea to keep embracing a positive attitude and acceptance of LGBT community representation in their media.
"This is such a delicate topic for k-artists because of their fear of losing fans and the fact that Zuho went to do a live right after seeing homophobic comments is so admirable! I've always thought highly of him but he just proved how much he deserves all my love and respect." – @sfninee_