Gold Rush Fans Are So Ready To Boot This Cast Member From The Show
The Gold Rush franchise on Discovery Channel has been around for more than a decade, following the lives of miners as they scour forests and streams in search of that golden nugget.
With Season 13 currently airing, the thrill of watching crews take on the challenge of prospecting for gold in the harsh conditions of Canada's Yukon keeps fans on the edge of their seats. However, not every aspect, or rather cast member, of Discovery's flagship show is to the liking of its dedicated fans.
Ever since former Green Beret Fred Lewis joined the show in Season 11 as a new prospecting crew leader, fans have been criticizing his behavior, decisions, leadership style, and the constant mention of his military background. Heck, they even hate his hairstyle!
Fans feel that Fred has been shooting first and asking questions later since day one on the show. When he leased his wash plant "as is" in Season 12 and spent a bunch of his investors' money fixing it up, the whole fandom was shocked at how stupid it felt. And the bad decisions didn't stop there.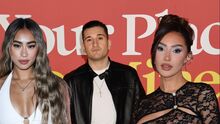 Who's the Richest Perfect Match Star? A Complete Net Worth Breakdown
Fans were annoyed when Fred let an inexperienced employee drive a rock truck that inevitably got stuck, and then lost control with that crew member. Then, in one of the more recent episodes that frustrated viewers, Fred borrowed a machine from the Clayton Brothers, who he teamed up with at the end of season 12, and his crew almost immediately broke it, leading to a terrible "good cop, bad cop" scene.
"Fred isn't winning any good neighbor awards," one of the viewers commented.
While fans understand that most of the Gold Rush storylines are scripted, they find Frank's arc difficult to deal with. Episodes like the ones mentioned above have prompted longtime viewers to take to social media to demand that Fred be booted from the show.
"Discovery… please listen!" a desperate fan wrote on Reddit. "Dump Fred Lewis and his entire crew off Gold Rush. They are a waste of time to watch and an embarrassment to the legit miners working."
Even though Gold Rush fans hate Fred and want to see him go, it seems that his dramatic narrative contributes to Discovery's viewership numbers, so the viewers will probably have to deal with Fred and his crew for the unforeseeable future.