Harry Potter Movies Did Hagrid Dirty for Absolutely No Reason, Made Him Look Stupid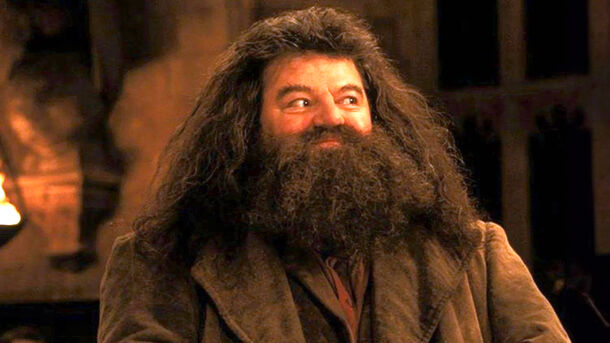 Look, we're not saying Hagrid was the sharpest tool in the shed in the books, either — but this one iconic detail from the first movie made the half-giant look too bad.
While the Harry Potter books featured over 700 characters, only some of them can be called iconic, and Hagrid is definitely one of them. Harry's big friend and Dumbledore's loyal ally, the naive and wholesome half-giant was the first wizard The Boy Who Lived met and the first person Harry really cared about, as sad as it is.
The movies might have butchered some other characters, but Rubeus Hagrid came out perfectly — the exact way fans imagined him when reading the books. Robbie Coltrane did an amazing job at portraying the kind groundskeeper, and we're grateful for that… But there was one minor yet iconic detail that has been bothering us since the first movie's release.
Harry famously received his first-ever birthday cake from Hagrid on the night the half-giant broke into the Dursleys' little hideout on the island. The Boy Who Lived was incredibly thankful to his new friend and ate the cake despite its obvious imperfections — and this is where things get a bit weird in The Sorcerer's Stone.
In the movie, the green icing on the cake famously reads "Happee Birthdae Harry." This detail became so iconic that many Potterheads have been baking copies of this cake from the movie for their own birthdays and putting these exact words on them. Admittedly, the caption reveals that Hagrid, though illiterate, has a very kind heart.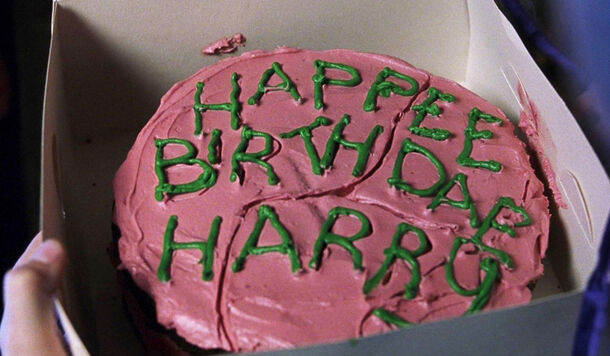 But Hagrid wasn't illiterate!
In the book version of The Sorcerer's Stone, the green icing reads "Happy Birthday Harry" without any grammatical mistakes. Obviously, since Hagrid had studied at Hogwarts before being (wrongly!) expelled, he knew English well enough to write all those essays and pass the exams. He didn't make any mistakes in the caption.
The movie version of Harry Potter and the Sorcerer's Stone did Hagrid dirty for no reason, making him look like an illiterate idiot which he never was. Other than comedic relief, we can't find any explanation for butchering the half-giant's grammar…but then again, it's not like the cake scene was that funny, is it?