Here's How to Read Dark Wind Books in Order, if You Loved the AMC Series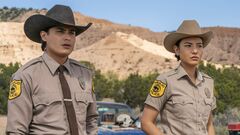 Dark Winds captured the imagination of audiences taking people back to the American Southwest during the 1970s.
The AMC series featured several breakout performances from a largely indigenous cast and crew. The gritty crime drama also presents an element of Western noir while tackling conflicts of the era.
It's a wonderful story yet not original. In fact, the original story was devised in a series of novels by Tony Hillerman. The author created the Leaphorn and Chee book series after being inspired to write about Native American culture. Hillerman grew up in Oklahoma and had a close association with the indigenous people there before relocating to New Mexico. In Monument Valley, he developed a passion for the Navajo Nation and later incorporated their culture into the fictional accounts of Leaphorn and Chee.
Therefore, if you loved the AMC series and are seeking to read the Dark Wind books in order, here is the complete list:
The Blessing Way (1970)
Dance Hall of the Dead (1973)
Listening Woman (1978)
People of Darkness (1980)
The Dark Wind (1982)
The Ghostway (1984)
Skinwalkers (1986)
A Thief of Time (1988)
Talking God (1989)
Coyote Waits (1990)
Sacred Clowns (1993)
The Fallen Man (1996)
The First Eagle (1998)
Hunting Badger (1999)
The Wailing Wind (2002)
The Sinister Pig (2003)
Skeleton Man (2004)
The Shape Shifter (2006)
Since there are 18 books in the Hillerman Leaphorn and Chee series we got a helpful cheatsheet in the event you do not have time to read all of them:
The first three books only feature Joe Leaphorn.
The next three books (People of Darkness, The Dark Wind, The Ghostway) only feature Chee.
Begin with the seventh novel, Skinwalkers (1986), for the first time Leaphorn and Chee start working together.
The plot from the first season of 'Dark Winds ' (AMC) is largely borrowed from the third book, Listening Woman.
The novels Skinwalkers, A Thief of Time, and Talking God all feature Chee and Leaphorn working together.
Begin with 2013 Spider Woman's Daughter for the character Bernadette Manuelito.
Additionally, it's worth mentioning that Anne Hillerman – daughter of the late Tony Hillerman – has gone on to release seven more titles in the Leaphorn and Chee series. In fact, Spider Woman's Daughter (2013), is the first novel in the series to feature the character Officer Bernadette Manuelito.
In the new series, Chee and Bernadette work closely together after Leaphorn is handicapped by a coma. Anne Hillerman released The Sacred Bridge in 2022 and is reportedly working on a follow-up novel.