Just How Big is 'The Rings of Power' Budget?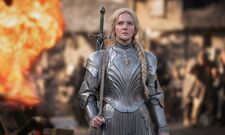 And will it make people care about 'The Lord of the Rings' prequel?
Amazon's 'The Rings of Power ', an ambitious Middle-earth prequel for 'The Lord of the Rings', has been met by fans with a great deal of skepticism, despite the series enjoying a truly astronomical budget for a TV project.
While the official figures of bucks to be spent on bringing Middle-earth back to life are not clarified, Deadline reported back in 2021 that the budget of the first season is a whopping $465 million.
Such a budget effectively makes 'The Rings of Power' one of the world's most expensive shows, if not the costliest one. Particularly, it easily surpasses the 'Stranger Things ' price tag with its estimated cost of one episode around $30 million. Then come Marvel TV shows, with the budgets for each reportedly nearing $25 million per episode.
Another massive fantasy series, 'Game of Thrones ', enjoyed a budget of around $100 million per season, with one episode costing around $10 million when the show approached its finale. One of Disney 's takes on the Star Wars universe, 'The Mandalorian', similarly had a $100 million budget.
'The Rings of Power' season 1 will consist of eight episodes. This means that one episode costs around $58 million. It is reported that a big part of the money is being used to build the infrastructure needed for the shooting but it would be reasonable to suggest that the show will be heavily reliant on CGI as well.
"Amazon makes 3 billion dollars a month, so they're not running out of money. And if most of their subs actually watch the series and averages more viewers than WOT, then Amazon will consider it a hit and produce 5 seasons."– /Evangelion217
Speaking with Empire, showrunner JD Payne said that fans should "keep the budget in context", as the upcoming series is going to be somewhat of an eight-hour movie.
"This is the length of three Marvel films, done on the schedule of two, for the budget of one. Look at it in the context of what's actually being produced and you could say that it's a bargain," Payne said.
Basically, it would seem that 'The Rings of Power' could have cost even more. Just how reasonable the expense is, however? Fans have already attacked the upcoming show for its diverse casting and reliance on CGI, accusing Amazon of trying to capitalize on John R.R. Tolkien's legacy. Will a money bag thrown into its production make sense in the end?
We'll have to find that out when 'The Rings of Power' premieres on Prime Video September 2.