Liam Payne Opens Up About Him and Louis Tomlinson "Hating" Each Other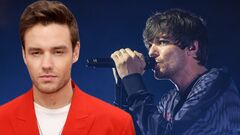 Was there trouble in 'One Direction' paradise?
Despite 'One Direction' has been on what appears to be an infinite hiatus since 2015, the in-band drama continues up to this day. Speaking with Logan Paul on his podcast, one of the ex-band members Liam Payne revealed that he and another 1D member, Louis Tomlinson … hated each other.
Even though now the two have no bad blood, things were different back at the times when the band was up and coming.
"Louis was wild. He wanted to be wild. He's got this spirit," Payne claimed. Noting that they are now "best mates", he continued: "But in the band we hated each other. Like, to come to blows hate each other, it was close."
The "best mate" disclaimer did not seem to make things any better for fans, with Payne's remarks raising many eyebrows online.
The way Payne decided to discuss the dirty details behind One Direction – especially in light of how other former members would usually dodge provocative questions – seemed to have particularly irked fans.
Following the hiatus announcement in 2015, every One Direction member moved on with their own solo careers. It's unclear whether the band is indeed over forever, but it also does not look plausible that these guys will ever come back together – especially now that old beefs start to emerge.