Matt Smith's Performance Is The Only Thing Fans Seem to Enjoy About 'Morbius'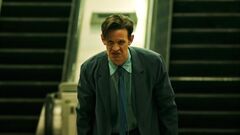 'Morbius' did not have a very promising start: before the movie even hit the US screens, critics bombarded it with bad reviews, and it enters its first week in cinemas with a historically bad Rotten Tomatoes score.
If you haven't watched 'Morbius ' yet and plan to do so, then there will be some spoilers ahead – we've warned you.
There seems to be one thing that fans liked about the 'Morbius' movie, and it's Matt Smith, who portrayed Milo Morbius, Michael's surrogate brother who embraces his vampirism and becomes a villain.
Some people immediately got nostalgic for Smith's Doctor Who after watching 'Morbius'.
Maybe 'Morbius' isn't so bad after all (seriously, it's not an April 1 joke).
The first day of 'Morbius' hitting US theaters got Matt Smith's name trending on Twitter, with people equally excited for his role as the Targaryen prince in HBO's upcoming Game of Thrones prequel 'House of Dragons'.