Joe Leaphorn is the main character in 'Dark Winds'. He's Lieutenant of the Navajo Tribal Police and works alongside officers Bernadette Manuelito and Jim Chee upholding law and order.
Leaphorn, as season one presents, is well educated (fluent in both English and Navajo) and grew up learning about the Navajo ways of life. However, he was forced into boarding school at a young age – an experience that haunts him later on in the series. It's reflected during a pivotal moment of S1, E6 "HózhóoNaasháa" when Leaphorn and Hoski share a tender moment regarding the abuse they suffered at boarding school.
Lieutenant Leaphorn is played by Zahn McClarnon in the AMC TV series. The actor – who has both Hunkpapa Lakota and Irish ancestry – is also known for his roles on 'Longmire', 'Fargo', and 'Westworld'.
Zahn split time as a child between Minnesota, South Dakota, Wyoming, and Nebraska. His father worked for the National Park Service which allowed Zahn to frequently visit the nearby Blackfeet Indian Reservation. His mother, who was raised on the Rosebud Indian Reservation (South Dakota), also helped form his identity as a Native American. Nevertheless, McClarnon described his upbringing as "rough" and credits a high school drama teacher in Omaha, Nebraska for getting him into acting.
McClarnon relocated to Los Angeles in the 1990s to pursue a career in Hollywood. Zahn landed bit parts in numerous TV shows ('Baywatch', 'Dangerous Minds', 'Saving Grace') before securing a recurring role in 'Longmire'.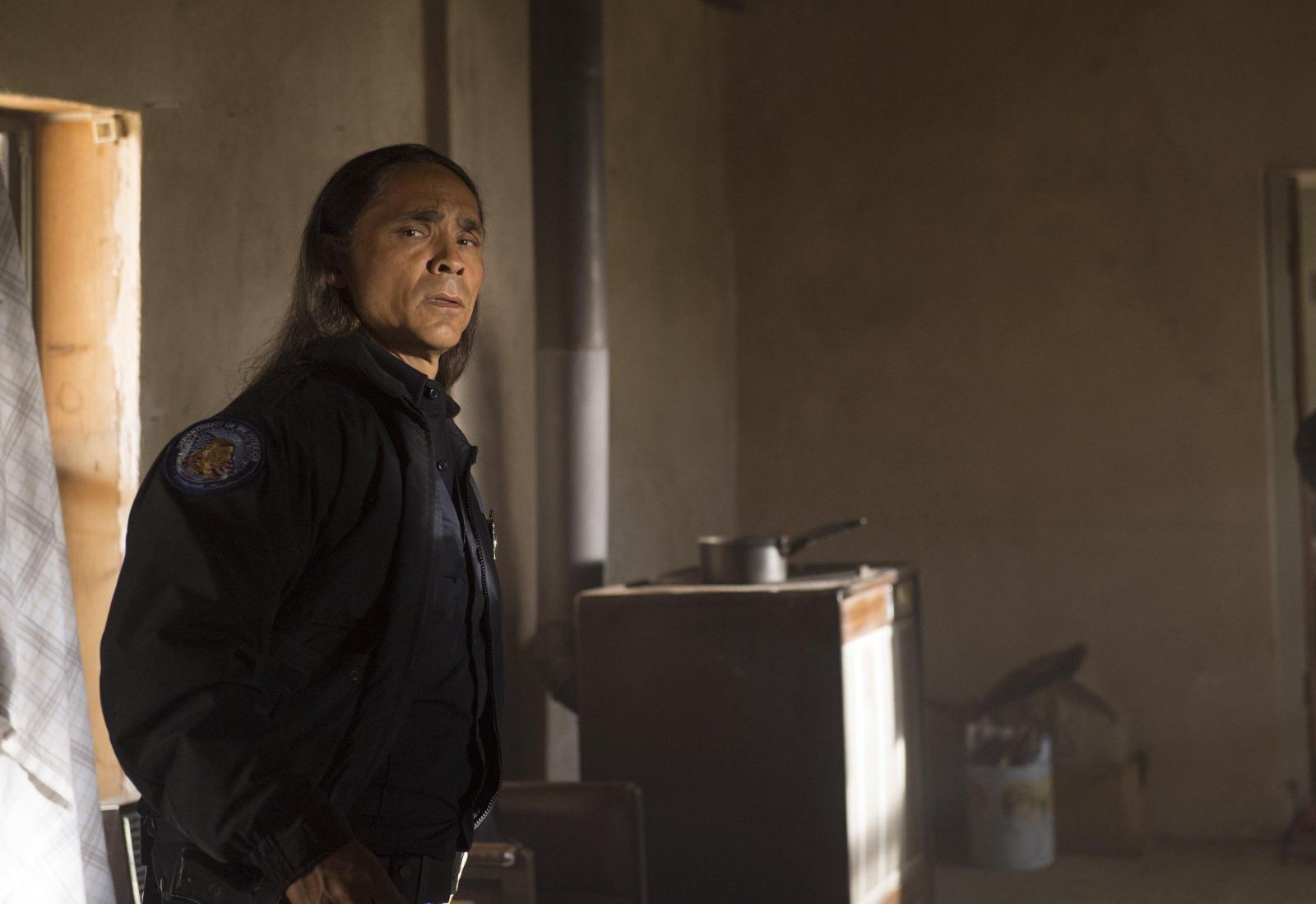 McClarnon, who plays Officer Mathias of the Chief of Indian Tribal Police (Cheyenne Reservation) in the popular Netflix series, was convincing enough to land the lead role in AMC's 'Dark Winds'. Furthermore, the performance earned McClarnon roles in season two of 'Fargo' and 'Westworld' both of which garnered critical acclaim. He's also recently appeared in 'Reservation Dogs' (Hulu) as well as the Marvel Cinematic Universe series 'Hawkeye' and 'Echo'.
Zahn McClarnon's first name honors his maternal great-great-uncle, Frank "Frances" B. Zahn. His uncle was a Lakota elder and artist that lived on the Standing Rock Indian Reservation in the Dakotas. Meanwhile, his middle name – Tokiya-ku – loosely translates into "first one to come". Zahn, who also has a fraternal twin brother, is currently shooting for season two of 'Dark Winds'. The second season is anticipated to arrive sometime in 2023, according to AMC.
It will be very interesting to see what character arc Joe Leaphorn takes in the second season. Joe Leaphorn has already transformed into one of AMC's more memorable lead characters. It's been interesting observing his clashes with his beloved wife, Emma, while he navigates a community deteriorating from crime and lack of hope. Also, repairing a working relationship with Chee after inviting him back to the Navajo Tribal Police in the final moments of the season finale.