Oscar-Winning Titanic Star Had to Go Through Hell to Fund Her Movie for a Devastating Reason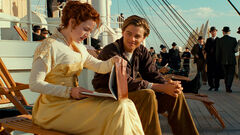 As Kate Winslet's new movie Lee is coming closer by the second, the iconic actress revealed what she had to face when looking for funding.
Not knowing who Kate Winslet is, to be entirely honest with you, quite an achievement. In the last decades, the actress did movies with the biggest stars of several generations, was part of the biggest films that became instant cult classics, and generally embodied the very idea of a strong female lead in the best sense of this phrase.
Seven Oscar nominations and one Oscar taken home, five BAFTAs, five Golden Globes, four SAG awards, two Emmys, and even more smaller awards...
Truly, you have to have lived under a rock for the past three decades to not have at least heard about Kate Winslet. This actress is a legend in her own right and a staple of the movie industry.
However, the industry itself is at times quite ungenerous despite everything Winslet has brought into it. While the actress started off in more uncivilized times, you'd reckon that a star of her scale would receive proper respect today — but apparently, that's not always the case. What's a lifetime of dedication and excellent results if you're a menace for someone's fragile masculinity?
As Kate Winslet was searching for funding for her new movie Lee, she faced more humiliation that she could've ever anticipated.
"The men who think you want and need their help are unbelievably outraging. I've even had a director say to me: 'Listen, you do my film and I'll get your little Lee funded…' Little! Or we'd have potential male investors saying things like: 'Tell me, why am I supposed to like this woman?'" The actress and director shared with Vogue.
This kind of attitude is infuriating for anyone, let alone for such an acclaimed actress — but god forbid a woman has a successful career and doesn't get treated like a lackey just for the fun of it.
Thankfully, Winslet claims, there are still quite a few changes in the general attitude toward women in the industry. This makes her happy for the new generations of actresses.
"This is the best part: young actresses now—f*ck me!—they are unafraid. It makes me so proud. And I think, 'Yes, all the shit flinging, all the struggle, all the using my voice for years, often being finger-pointed at and laughed at—I don't give a shit! It was all bloody worth it.' Because the culture is changing in the way that I couldn't in my wildest dreams have imagined in my 20s," the Titanic star explained.
This is undoubtedly great, and we can't help but share the actress's pride for the new generations... However, we also can't shake off the feeling that they're still getting a rough treatment from the people who still find it plausible to not take seriously a performer as acclaimed as Kate Winslet based solely on her gender.
Source: Vogue