RED VELVET Seulgi's New Comeback is Inspired by This Marvel Character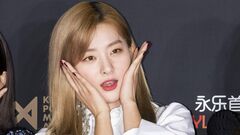 Can you guess them by watching the music video?
On October 4th, Red Velvet's Seulgi debuted as a solo artist with a music video for her title track 28 Reasons based on an unusual concept. This MV and song itself felt different from typical K-pop releases, immediately captivating viewers with the mischievous story of Seulgi who portrays a charming and confident villain.
The idol shared that she had many worries about presenting the idea the right way since the song was very conceptual and not based on an ordinary human experience. In her search for feelings needed, Seulgi watched a lot of movies, especially ones with complex and fascinating villains. Fans praised the artist for diligently working on her new and unusual image.
"Ahhh she really took inspiration from many different movies and stories to support her concept for this album, this woman... just incredible." – @queerdomrv
The 28 Reasons music video does feel like a short film, in which the idol was able to showcase her acting skills as well. However, it was her dance that got the most attention from fans. The 28 Reasons' choreography is full of provoking and elegant gestures as if Seulgi is 'playing' with her viewers.
At a presscon for her comeback, Seulgi opened up more about creating the movements for her dance. She said she was inspired by Scarlet Witch (Wanda Maximoff) from Marvel universe. Seulgi and her dancers used a lot of hand gestures to imitate the witch casting powerful spells.
Seulgi referenced and showed some respect for other female artists in her work as well. Beyoncé shows up in Bad Boy, Sad Girl's lyrics, and when asked about people Seulgi looks up to, the artist named BoA as her Korean role model. However, fans prefer to praise her as an idol standing out from the rest with skills and ideas which may be initially inspired by others but eventually transformed into the uniquely Seulgi's art.