Ryan Reynolds Admitted 'Someone' Leaked Deadpool Footage to Make Fox Greenlight It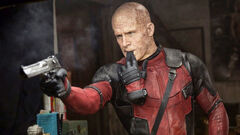 The first Deadpool movie was canceled by Fox, but a few years later, someone conveniently leaked footage — and Reynolds is "70% sure" it wasn't him.
Today, Deadpool is celebrated as one of Marvel's most popular and unorthodox franchises with millions of fans. Deadpool breaks all MCU rules with its intense brutality, foul language, dirty jokes, and fourth-wall-breaking — and fans absolutely adore the franchise for it. It's hard to imagine Marvel without Deadpool today.
As fans are eagerly awaiting the grand finale, Deadpool 3, and speculating who else will join the Merc with a Mouth's crew in the last installment, we dived into the early days of the franchise and found out it was never meant to be. After filming some test footage, Fox canceled the project altogether — and then, something peculiar happened.
The test footage was leaked! Fans immediately cheered up thinking it was an official promo teaser, and once the djinn was out of the lamp, there was no turning back. Fox had no other choice but to greenlight the movie and begin its production.
Ryan Reynolds gave rather elusive answers about this whole situation. Apparently, he and his three colleagues and friends were joking about the need to leak the footage after the project was shelved, but they didn't think one of them would do it.
"I know that one of us did it… There's four of us: me, Rhett Reese, Paul Wernick, and Tim Miller. We all said at the beginning that someone should leak it, so the idea was planted, but I'm 70% sure it wasn't me," Reynolds shared on The Tonight Show.
Many fans believe it was Ryan Reynolds himself, and his joke about only being "70% sure" he didn't do it only fueled the flames of suspicion. But whoever really leaked the footage, it's hard to argue with the results: Deadpool captivated its audience and earned Fox a ton of money, so we're pretty sure the studio didn't even search for their thief too hard.
Do you think Reynolds leaked the footage himself?
Source: The Tonight Show via YouTube