Salma Hayek Heartbroken As Her Mother Rates Korean Shows Higher Than Her Marvel Movie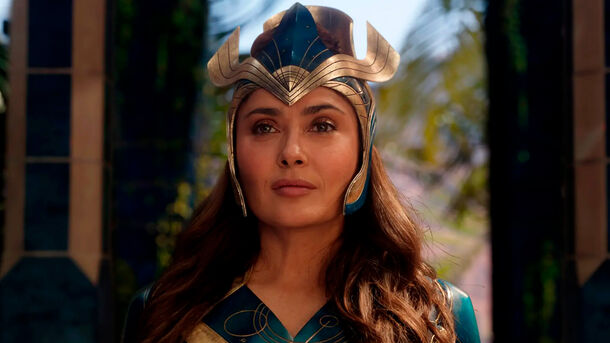 Salma Hayek's superhero debut in Marvel's Eternals turned out to not be as important for her mother as some Korean shows, and the actress was utterly frustrated with that.
It would take immense ignorance to say that Eternals was a big breakthrough for Salma Hayek: an actress of her scale can only add to a movie she stars in, not profit from it (save for the financial gains, of course).
Salma Hayek has been one of Hollywood's best actresses for many years now, and she has quite a track record to show for it.
Despite that, Hayek doesn't fail to recognize the broader importance of Eternals — Marvel's first step at exploring the larger cosmic entities of its own universe, Celestials.
Also, despite already being at the top of the food chain, the actress was more than happy to finally add a superhero role to her resume, especially one of Ajak from Eternals.
However, Salma Hayek's mother didn't exactly share her daughter's enthusiasm: in her eyes, Korean soap operas were way more important than the new Marvel movie.
"My mom, she's watching Korean telenovelas now. I don't know why, she's Mexican! And for her, it's like…some Marvel movie. [She asked me,] 'A Marvel movie, is it about architecture?' I was like, 'No! No! I'm a superhero!' Hayek shared on Jimmy Kimmel Live!
Despite her genuine lack of understanding of what Marvel movies are, Salma Hayek's mother recognized why playing a superhero was a huge milestone both for her daughter and for the movie industry in general.
"She does understand though, the importance of being – Latina, middle-aged woman, and still playing an action hero," the actress added.
Salma Hayek also joked that her mother initially believed that she'd had the role of a superhero's mother in the movie, so it was partially the reason why it took some time for her to process the importance of the character.
Her husband and father, on the other hand, shared her excitement about starring in Eternals way more.
Source: Jimmy Kimmel Live! via YouTube