Sherlock Holmes Once Saved Robert Downey Jr. from the Worst Career Flop Ever
The acting isn't ever elementary, our dear readers.
To make it as an actor, you have to be prepared to experience both the highs and the lows — from the highs of getting the role of your dreams or seeing your TV show break all records to the lows of losing multiple auditions in a row and finding yourself absolutely broke, that is.
Throughout his career, Robert Downey Jr. has seen it all, but there were some crazy coincidences that helped him avoid going below the point of no return. Instead, he managed to stay on top and has never left the hearts of the audience since the success of Iron Man in 2008.
A project that might have changed the audience's perception of the actor would've been Cowboys & Aliens, the Dreamworks/Universal sci-fi film by Iron Man director Jon Favreau.
Despite being known for driving the massive machine that is the Marvel Cinematic Universe, Favreau hasn't been as successful at everything he's done. But Robert Downey Jr. had no way of predicting the future of the movie and was in talks to play the lead for a while before finally dropping out of what seemed to be a potential scheduling conflict (via Los Angeles Times).
Although the sequel to the beloved Sherlock Holmes franchise hadn't even been greenlit at the time, with the first installment growing exponentially in both popularity and box office, it was only a matter of time. And Robert Downey Jr. didn't want to lose the role that so clearly helped him avoid being stuck in an iron suit forever.
That decision (if true) has also saved the actor from potentially the worst flop of his career. Starring Daniel Craig and Harrison Ford, Cowboys & Aliens ended up grossing only $174 million against a budget of $163 million. In addition to being a commercial failure, the film was poorly received by critics, with a score of 44% on Rotten Tomatoes.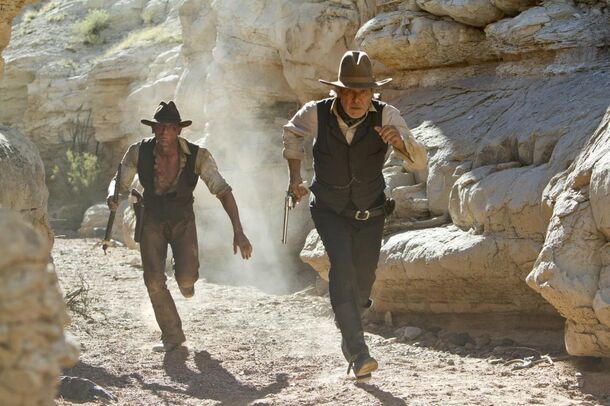 Not a title you really want to have in your resume. Especially not compared to the whopping $543 million that Sherlock Holmes: A Game Of Shadows managed to make in ticket sales. It may not have gotten the best reviews from critics, but the public was still willing to keep watching the adventures of the beloved character.
If you want to dive deep into Robert Downey Jr.'s work and throw a Sherlock Holmes watch party, you can stream the movies on Netflix or Max.
Source: Los Angeles Times