Spanish Director Pedro Almodovar Likens Will Smith's Oscars Speech To That Of a "Cult Leader"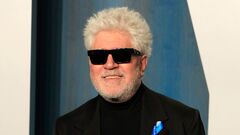 Two-times Oscar winner Pedro Almodovar has something to say about the whole 'Slapgate' affair. The director, known for his powerful melodramas, condemns Smith for his actions and goes a little over the top in doing so.
In his special Oscars diary for IndieWire, Spanish auteur accused Smith of overshadowing many wonderful people finally having a recognition they deserve.
"I refuse to let that episode mark the gala and be the protagonist of a ceremony where many more things happened and of much greater interest. For example, 'Drive My Car,' without a doubt my favorite film of the year, won Best International Feature Film. And also 'Summer of Soul,' my favorite documentary."
But it seems that the notorious incident itself didn't bother Almodovar as much as what came next – Smith's apologetic acceptance speech.
'What I saw and heard produced a feeling of absolute rejection in me. Not only during the episode but afterward, too, in the acceptance speech — a speech that seemed more like that of a cult leader. You don't defend or protect the family with your fists, and no, the devil doesn't take advantage of key moments to do his work'.
Almodovar was always vocally critical of Christianity, so Smith's decision to blame his outburst on the Devil didn't sit well with the director.