Tarantino's Trash List: Are Your Favorite Movies on It?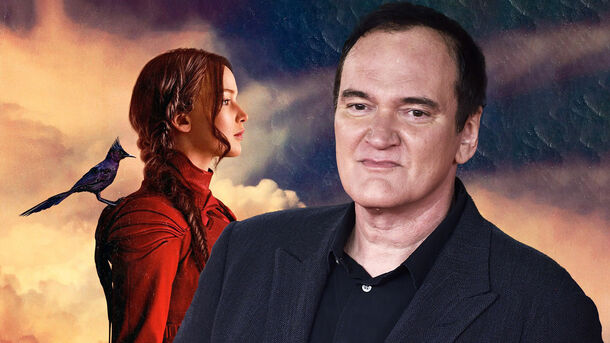 The famous filmmaker cannot stand these movies.
Quentin Tarantino is a master of cinema, love it or hate it. The writer/director has amassed over 30 years of impressive filmmaking, including two Academy Awards for Pulp Fiction and Django Unchained in the Best Original Screenplay category. He's also one of the most knowledgeable film critics, having reportedly seen thousands of obscure and foreign films.
For this reason, audiences are often curious to hear what Tarantino thinks of the latest releases. And since he is known to have strong opinions about the movie industry, he is not afraid to express them. Tarantino has spoken out about Star Wars, The Hunger Games, the Marvel Universe, and many other Hollywood blockbusters.
Tarantino attacks modern Hollywood, including MCU
Quentin Tarantino reportedly has an encyclopedia-level knowledge of cinema. He's watched countless movies, starting as an employee of Video Archives in Manhattan Beach. The video store, like so many others, is now closed. But Taratino has recreated its interior in his basement and now uses it as a set for a podcast with longtime collaborator Roger Avary.
In the past, Taratino has not shied away from criticizing Hollywood icons like John Ford and Stanley Kubrick. So it's no surprise that the filmmaker enjoys taking jabs at recent theatrical and streaming releases he doesn't approve of, including Ed Wood and Francois Truffaut, whom he recently called 'bumbling amateurs.'
Recently, he's also attacked the Marvel Cinematic Universe for being the death of the film industry, as have other famous directors (e.g. Martin Scorsese). While Tarantino admitted that he doesn't hate the MCU, he's just getting annoyed with old age.
'There's an aspect that if these movies were coming out when I was in my twenties, I would totally be f**king happy and totally love them. But, you know, I'm almost 60… I'm not quite as excited about them.'
Tarantino dislikes many Hollywood epics and summer blockbusters
Tarantino is a huge fan of foreign cinema, including Japanese films like Kinji Fukasaku's Battle Royale. In fact, it's one of his favorite movies of all time, which helps explain Tarantino's disdain for The Hunger Games. The Hunger Games franchise is based on Battle Royale, but according to Tarantino, it is nothing more than a cheap rip-off.
Moreover, the director has previously slammed Star Wars and The Matrix. In the past, Tarantino has proudly stated that he's 'a Star Trek guy,' and been even more bitter about it since The Force Awakens Episode VII opened the same weekend as his film, The Hateful Eight. Additionally, Tarantino was so disgusted with The Matrix Reloaded that he walked out of the theater before it finished.
Tarantino hates some of the movie classics, too
Quentin Tarantino is a man known for borrowing from other filmmakers. However, the 60-year-old is not a massive fan of all the classics. In fact, the director has went after Hollywood legends like Alfred Hitchcock and Stanley Kubrick in the past.
Tarantino has defended the first 20 minutes of A Clockwork Orange as 'pretty f**king perfect,' but for the most part steers clear of Kubrick's films. He has called Kubrick 'hypocritical' for disdaining violence while allowing it to run rampant in his projects.
In addition, he hasn't been shy about criticizing Alfred Hitchcock's beloved classics Vertigo and North by Northwest. Tarantino has insisted that he's not a fan of Steven Spielberg 's Indiana Jones and the Last Crusade, which he criticized for starring Sean Connery and being the 'boring [movie]' of the franchise. Finally, Taratino has gone after Wes Craven's 1996 slasher Scream, calling it overrated.
Source: MediaFire, New Yorker, YouTube, Vulture, ReelBlend.