Taylor Swift Steals Hearts As She Teases New Song 'Carolina' In 'Where The Crawdads Sing' Trailer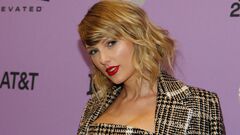 After the massive success of 'Folklore', Taylor Swift does not seem to be ready to stop.
The new trailer for the movie 'Where the Crawdads Sing' has immediately become hugely popular among Taylor Swift fans. The explanation is simple - Taylor teased a new cong, 'Carolina', written and performed by her exclusively, in the trailer.
The song, which is expected to last for more than 7 minutes (still not the ten-minute-version of 'All Too Well'...), is already loved by fans, even though it is yet to be released in full.
What will happen to the fans when they get their hands on the full version?
Some people, however, offered their own ideas on how to make the song even better.
Others have already predicted an Oscar for 'Carolina' and its author.
You want some drama? Both Taylor Swift and Harry Styles have songs called 'Carolina' now. Pick a side (or don't).
The song will be released in full in July 2022, along with the movie. Taylor herself revealed she was very much into the book that the film is based on, and said she immediately signed up to become a part of the movie.