This Harry Potter Trivia Quiz is So Tough, Even Die-Hard Fans Would Fail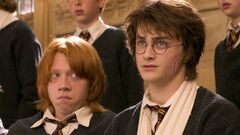 Think you're the ultimate Potterhead?
We're not talking about knowing Harry's birthday or what spell Hermione used to fix Harry's glasses; those are for muggles. We're diving deep into the magical world, dusting off the most obscure details from the pages of J.K. Rowling's series.
That's right, this quiz is for the die-hard fans who pride themselves on knowing not just the whats, but the whos, whys, and hows of the Potterverse.
Ready for a quick example? Can you name the three Peverell brothers? How about Neville Longbottom's grandmother's name? Still with me? Good, because it gets trickier.
We've got questions about tertiary characters, family histories, and obscure magical lore that didn't make it into the films.
Don't even think about entering this magical gauntlet unless you're ready for questions like, "What house is Terry Boot in?" or "How old was Dumbledore's youngest sister when his family moved to Godric's Hollow?"
This quiz is not for the faint-hearted or the casual fan; it's an enchanted labyrinth designed to challenge even the most dedicated wizarding enthusiasts. So, if you think you've got what it takes to ace this, give it a whirl. Just don't say we didn't warn you. Best of luck, Harry Potter fans. You're going to need it!