Tom Holland and Brie Larson to Suit Up For a New Disneyland Project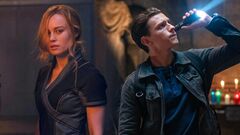 Spider-Man and Captain Marvel are back on track. Quite literally.
With a couple of new attractions to open in Disneyland Paris this summer, there are some familiar faces you might want to meet there – Tom Holland and Brie Larson!
The two are set to reprise their roles for the opening of the new attractions in the Avengers Campus in Disneyland's Paris Walt Disney Studios Park.
In a promo clip for the new Disneyland rides, Holland said that he cannot wait for fans to experience the attraction, and Larson told everyone to "get ready to go higher, further, faster."
Captain Marvel will suit up to guide guests through the Avengers Assemble: Flight Force roller coaster, where people will also get some help from Iron Man. The two heroes will accompany the visitors on a Stark space vehicle as the ride takes them on a journey to save the planet.
Holland's Peter Parker, in his turn, is set to star in the Spider-Man W.E.B. Adventure dark ride, with the attraction guests set to help the web-slinger to fight against rogue Spider-Bots that attack the Avengers campus.
Both rides will be open for those brave enough to embark on a superhero journey starting from June 20. The Avengers campus will also boast a handful of dining places and shops for those who want to re-charge after their superheroing.