Tyrese Gibson Teases 'Blade Casting', Gets Mocked By Fans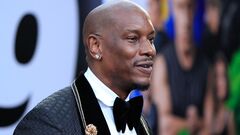 It seems that 'Fast and Furious' star Tyrese Gibson has found himself yet another cause for ridicule from fans.
After sharing the fake news that Martin Scorsese enjoyed watching 'Morbius ', the actor began a campaign to star in the MCU as... Blade?
While some fans endorsed his proposition to play the famous vampire hunter, others rightfully pointed out that actor is a little bit late with his ideas. Thing is: MCU 'Blade' is happening for sure, but the main star was chosen long time ago. Mahershala Ali will embody the famous character in the upcoming film, and it is highly unlikely that Marvel will change its plans and hire Gibson for the role.
The upcoming film is rumored to be directed by 'Mogul Mowgli' Bassam Tariq, with Delroy Lindo and Aaron Pierre set to co-star. Not much is known yet about the plot of the movie or when it will be released, but one thing is certain – Tyrese Gibson will not play Blade. Unless… There's always a multiverse to fulfill even the strangest dreams.
Fans were flabbergasted by Gibson's untimely campaign, so the Twitter is pretty full with jokes about 'Fast and Furious' franchise joining the MCU cannon.