Viserys' Dying Days Put Paddy Considine's Health in Jeopardy: "I Actually Felt Like I Was Dying"
Looks like playing Viserys was more than just a role for Paddy Considine - it was a life-threatening challenge.
This past Monday Foreign Press Association presented the Golden Globes nominations, and the list left fans of House the Dragon surprised – in a bad way – and somewhat exasperated.
Yes, the series was nominated for Best Drama. But among all the actors only Emma D'Arcy got a nomination for the role of Rhaenyra Targaryen. Both Matt Smith ( Prince Daemon) and Paddy Considine (King Viserys I) were snubbed, despite the wide acclaim they received for their performance.
In case of Paddy Considine this might be especially egregious. No actor on House of the Dragon got as much praise for his role, including praise from George Martin, the franchise's creator, himself. And probably no actor had to work as hard.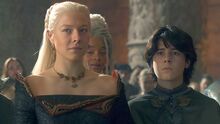 Think Lucerys' Death Was Bad? Joffrey Got It Way Worse In The End
For instance, Considine's work on Viserys' final appearances in Episode 8 was extremely draining, not only emotionally, but physically. By that episode King Viserys is dying, it covers the very last day of his life, and convincingly portraying a character on the verge of death, who has difficulties moving around, speaking and even breathing, ended up quite taxing for the actor.
First of all, Considine hurt his own hip (and broke several walking sticks) when filming the throne room scene, where Viserys musters the last of his failing strength to ascend the Iron Throne with his own legs.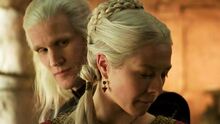 In a Perfect World, Rhaenyra Would Have Chosen Harwin Strong
But perhaps even more traumatic was Viserys' death scene. It took a long time to shoot, and imitating labored breath of a dying man over that long time proved to be difficult and even dangerous:
"It was a couple of days and it wasn't just difficult in an emotional way, it was just difficult to shoot," Considine explained. "I was lying in that bed for hours and hours and doing that kind of breathing. The strange thing that happens is you think you're just acting [but] what happened when I was breathing that way was after a few hours my oxygen levels went straight down." (via)
"I had my levels measured and they said, 'We've got to get out of here, you need to get outside,'" he continued. Well, thankfully, they must have gotten him outside, but for a time "…I actually felt like I was dying, which was fun."
Paddy Considine's definition of "fun" may be doubtful, but his performance was undoubtedly exceptional. Too bad it won't be rewarded with a Golden Globe award.