15 Chef's Kiss Comedies of the Last 50 Years We've Been Sleeping On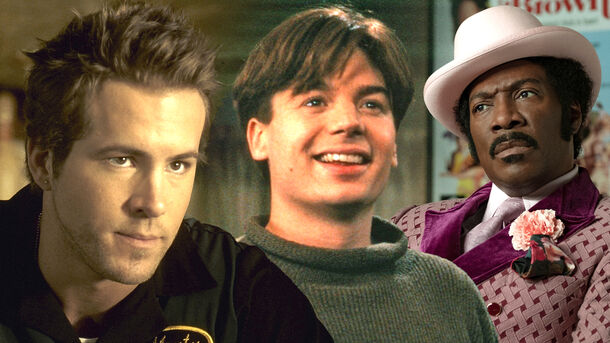 Are you tired of the same old comedies? There's something here for every comedy connoisseur. Comedy has always held a special place in the world of cinema, and in the hearts of many of us.
Are you tired of the same old comedies? There's something here for every comedy connoisseur.
Comedy has always held a special place in the world of cinema, and in the hearts of many of us. While we love comedy blockbuster hits and household names, there is a treasure trove of lesser-known gems, and we are about to remember the best of them.
Underrated Comedies of the 80s
Real Genius (1985)
You know the mad scientist trope, right? Well, picture a college filled with those guys. Real Genius drops us right in the middle of a tech university where genius students are pushed to the limits by ambitious professors.
Starring Val Kilmer in one of his earliest roles, this movie perfectly captures the fine line between brilliance and insanity.
The 'Burbs (1989)
Tom Hanks + Suburban mysteries = a recipe for laughter. The 'Burbs is set in a seemingly tranquil suburb, but beneath the cookie-cutter houses lurk dark secrets.
Hanks delivers his signature comedic charm, and the movie is a quirky reminder that sometimes the most ordinary places hide the craziest stories. If you've ever wondered about your mysterious neighbor, this film will resonate with you (and hopefully not give you any wild ideas).
Top Secret! (1984)
From the genius minds behind Airplane! and The Naked Gun, the film follows pop star Nick Rivers, played by Val Kilmer (yes, him again), who finds himself tangled in a resistance movement against the East German High Command.
The jokes are rapid-fire and the puns are cringe-worthy (in the best way). It's an absolute hoot from start to finish, offering spoofy scenes that'll have you laughing out loud. If you're a fan of parody movies, Top Secret! is a gem you might've missed.
Underrated Comedies of the 90s
Dirty Work (1998)
In Dirty Work, the late Norm Macdonald teams up with Artie Lange to play a couple of guys who are...well, not having the best time in life. After realizing they're quite talented at exacting revenge, they decide to open a "revenge-for-hire" business. As you can imagine, chaos ensues.
The movie might not have received the biggest applause from critics, but if you want pure unadulterated fun, this one's a gem.
So I Married an Axe Murderer (1993)
Mike Myers before the Austin Powers madness? That's a must-watch! This movie is a quirky mix of romance, mystery, and comedy. Mike plays Charlie, a poet who thinks he's found the woman of his dreams, but starts to suspect she might have a dark secret. Spoiler: the title might give you a hint.
Drop Dead Gorgeous (1999)
This dark comedy takes a hilarious jab at the world of beauty pageants. Kirsten Dunst, Denise Richards, and other fantastic actors star in this mockumentary-style film about a small-town beauty pageant where contestants start meeting "unfortunate" accidents.
The movie is a sharp satire on beauty standards, competition, and the lengths people will go to for a shiny crown.
Underrated Comedies of the 2000s
High Fidelity (2000)
Featuring John Cusack in the role of Rob Gordon, a record shop proprietor grappling with a fresh heartbreak, the movie delves into the intricacies of love, melodies, and the occasionally agonizing journey of maturation.
But it's not just a comedy. It's also a retrospective look into relationships and regrets, all set to a killer soundtrack. And come on, who can resist a young Jack Black belting out some tunes?
Orange County (2002)
Orange County tells the tale of a young writer named Shaun, played by Colin Hanks. He realizes that a simple administrative error could have cost him his spot at Stanford University.
The charm of this movie is its heartfelt take on family dynamics, ambitions, and the lengths we go to chase our dreams. Plus, Jack Black is in this movie as well.
Waiting... (2005)
Waiting... showcases a day in the life of employees at a restaurant called Shenaniganz. Starring Ryan Reynolds and Anna Faris, the movie is both hilarious and cringe-worthy, offering a raw and unfiltered peek into the world of casual dining. And while it might not have garnered Oscar nods, it's a cult classic for anyone who's ever worn an apron.
Underrated Comedies of the 2010s
Dope (2015)
Directed by Rick Famuyiwa, Dope revolves around a geeky high school senior, Malcolm, and his friends who unexpectedly find themselves entangled in a Los Angeles drug deal gone wrong.
Dope is a fresh coming-of-age tale that plays around with conventions. The movie also offers a banger soundtrack, a unique story, and abundant laughs.
Everybody Wants Some!! (2016)
If you enjoyed Dazed and Confused (1993), this "spiritual sequel" by Richard Linklater is right up your alley. Everybody Wants Some!! is a nostalgic trip to the '80s with that youthful exuberance, friendship, and the freedom of college life. Plus, it's super funny without trying too hard. Sit back, relax, and let the good times roll with this one.
Dolemite Is My Name (2019)
Eddie Murphy's name is synonymous with good comedy. Even if you're a fan, you might've missed this absolute gem where Murphy plays Rudy Ray Moore, a real-life legend known for creating the iconic character, Dolemite.
This biographical comedy gives us a glimpse of Moore's journey in bringing his alter ego to the big screen. The film is not just hilarious but also inspirational.
Underrated Comedies of the 2020s
Palm Springs (2020)
We all know those Groundhog Day-kind of movies where the same day keeps repeating over and over. Make it more modern and sprinkle in a dash of existential dread, and you'll get Palm Springs.
The movie follows Nyles and Sarah who find themselves reliving the same day at a Palm Springs wedding. While the premise might sound familiar, the movie manages to make it fresh, with unexpected twists and turns.
Plan B (2021)
Plan B is a delightful addition to the league of movies like Superbad, but with a feminine twist.
After a regrettable first sexual encounter, Sunny and her fun-loving best friend Lupe set out on a wild road trip to find the Plan B pill in America's heartland. The duo's adventure is packed with laugh-out-loud moments and endearing mishaps.
Drunk Bus (2020)
The title might make you think this is about a chaotic ride, and you wouldn't be entirely wrong. Drunk Bus is a coming-of-age story revolving around Michael, a college graduate stuck in a rut, driving the night shift on the campus 'drunk bus'.
But Michael strikes an unlikely friendship with a Samoan security guard which leads to a series of hilarious and heartfelt escapades.