4 Must-See MCU Projects to Check Out Before Watching The Marvels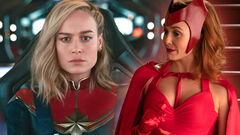 These movies and TV shows will ensure you're well-versed and ready for The Marvels.
The Marvels is the last movie of the Marvel Cinematic Universe to hit theaters in 2023. The movie brings together an unlikely trio — Carol Danvers, Kamala Khan, and Monica Rambeau. Directed by Nia DaCosta, the film features a star-studded cast, including Samuel L. Jackson, Brie Larson, Teyonah Parris, and Iman Vellani.
As the anticipation for the release of The Marvels continues to build, there are certain movies and TV shows you might want to watch (or rewatch). If you're looking to fully immerse yourself in the MCU and grasp every detail of the upcoming film, here are some must-see Marvel projects.
1. Captain Marvel
It's the origin story of Carol Danvers, a.k.a. Captain Marvel, played by Brie Larson. This film is a precursor to The Marvels, where you get the lowdown on her past and how she took back her identity from the Kree.
2. Ms. Marvel
This series introduces us to Kamala Khan, a.k.a. Ms. Marvel, portrayed by Iman Vellani. Kamala is a super-fan from Jersey City whose life takes a turn when she acquires superpowers. She will play a significant role in The Marvels, joining forces with Captain Marvel and Photon.
3. WandaVision
Speaking of Photon, if you haven't watched WandaVision, you are missing out. While the series focuses on Wanda, a.k.a. Scarlet Witch, it also features the origin of Monica Rambeau's superpowers, and she's coming back as Photon in The Marvels.
While many fans debate the necessity of this series, it supposedly does have ties to The Marvels. The finale potentially sets up Nick Fury, played by Samuel L. Jackson, for his involvement in the upcoming film. However, if you're short on time, a summary might suffice.
Whether you're a seasoned Marvel veteran or a newcomer to the universe, these films and series should be enough to provide you with the background knowledge needed for watching and comprehending The Marvels.
Fans hope The Marvels won't disappoint as much as some of the latest MCU projects did. The movie is set to hit theaters on November 10.
Are you excited for The Marvels?