5 Iconic Movie Moments Even the Lead Actors Didn't Know Were Coming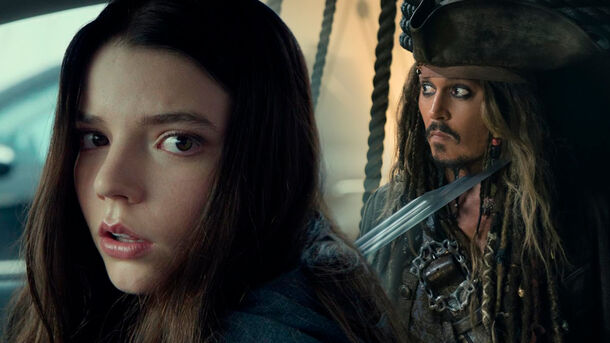 Why did no one tell Davy Jones that he would be back?
Throughout movie history, there have been numerous instances where actors unexpectedly found themselves in scenes they didn't know much about or where they didn't even need to be. Here are five iconic movie moments that have caught their lead actors off guard.
1. Star Wars: Episode V – The Empire Strikes Back (1980)
In the climactic lightsaber duel between Luke Skywalker and Darth Vader, the infamous reveal of Vader's true identity as Luke's father shocked not only the audience but the cast of the film as well.
For secrecy's sake, Vader's actor David Prowse delivered different lines while filming, and James Earl Jones, the voice of the Jedi-turned-villain, later provided the actual dialogue in a voiceover. This secret remained undisclosed until the movie's release and was known only by a select few, including Irvin Kershner, George Lucas, and Mark Hamill ( via X, formerly Twitter).
2. Pirates of the Caribbean: Dead Men Tell No Tales (2017)
In the Pirates of the Caribbean series, Bill Nighy's Davy Jones is not only one of Captain Jack Sparrow's greatest enemies but also a memorable sequel villain. Using motion capture and his distinctive Scottish voice, Nighy brilliantly portrayed the tentacled captain of the Flying Dutchman in the second and third films.
In a surprise to the franchise fans, Jones made a cameo appearance in an after-credits scene in Dead Men Tell No Tales, but Nighy actually had no idea. Apparently, the actor found out about it from a taxi driver, but he expressed hope for more opportunities to play the role if Pirates of the Caribbean 6 ever happens (via Empire).

3. Avengers: Endgame (2019)
In the MCU, it can be hard to keep big surprises a secret, especially when you have Tom Holland as part of your cast. That's why, to prevent any leaks regarding the latest Avengers movie, the Russo brothers told the entire cast a different story about how the film would end.
This clever tactic helped preserve the movie's biggest secret, as the cast believed that they were filming a wedding scene, not Tony Stark's funeral. We bet RDJ had a good laugh behind the scenes (via X).

4. Split (2016)
16 years after M. Night Shyamalan's hit movie Unbreakable, Bruce Willis made an unexpected appearance in 2016's Split to tease the much-anticipated sequel Glass. Surprisingly, even Samuel L. Jackson, who played the role of Mr. Glass in Unbreakable, was left in the dark about the plans for the sequel.
Shyamalan simply asked him to go see Split, and Jackson was shocked when he saw the connection to his own movie from nearly two decades ago (via Vulture).
5. Goodfellas (1990)
Martin Scorsese's crime epic Goodfellas features a memorable scene where Joe Pesci's character, Tommy DeVito, goes on a dinner table rant against Ray Liotta's character, Henry Hill.
The "funny how?" scene was inspired by Pesci's real-life conversation with a mobster and was not in the script, so the other actors, except for Ray Liotta, were unaware of Pesci's monologue. That helped capture the real fear on the faces of the people around (via Far Out Magazine).

Sources: X, Empire , X, Vulture, Far Out Magazine