Brad Pitt's 'Favorite Adam Sandler Story' Is So Wholesome It'll Make You Go 'Aww'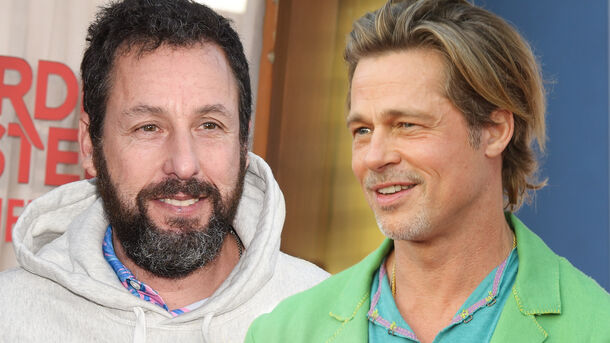 Apparently, the two actors shared a compelling bromance, and Pitt's favorite story about Sander is the best explanation as to why he loves his colleague.
Brad Pitt and Adam Sandler are both incredibly famous actors — but they are also very different. It's hard to imagine a movie where both of them would fit in organically, and that's because of how opposite they are to each other in terms of their acting.
Still, despite that, they turned out to have quite a bromance going on!
The origin of their friendship likely had to do with the fact that both actors were starting their careers around the same time and had to spend quite some time going to the same auditions and events. Thanks to that, Pitt and Sandler know each other well — and their episode of Variety's Actors on Actors was really captivating.
Amid the discussion, Brad Pitt shared what he called his "favorite Adam Sandler story" that perfectly showcased what a noble and wholesome man Sandler was.
"It was an acting coach, I believe… And he said to you, 'I want to take you out for a beer.' This is what I'm told. You guys went to a bar, and he kindly said to you, 'Think about something else. You have to choose another path.' [But] there's a second part to this story, this is why it's my favorite Adam Sandler story, and I think it says a lot about you," Pitt said.
While the beginning didn't sound like something positive would come out of it, the finale of the story turned out to be really wholesome: when Sandler got famous, he accidentally ran into his acting coach once again and acted more than nobly.
"You ran into him at your height, when you're getting the ultimate payday, and you're with a bunch of friends, out at a bar. Anyone would think that's the opportunity where you rub it in his face. And reportedly, what you did was you introduced him to your friends, and you said: 'This is the only teacher to ever buy me a beer'," the actor concluded.
Adam Sandler reacted to this story being brought up by immediately going shy, but we're glad Brad Pitt shared it. After so many comedies with Sandler, it's nice to learn that in real life, he's just as wholesome a man as he is in the majority of his movies.
Source: Variety