Coachella Weekend Two Recap: 'Misery Business', Harry's 'Whale' & Crowd Shade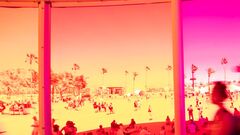 April 24 marked the wrap-up of this year's Coachella – one of the biggest and loudest music festivals in the world.
Despite the shake-up with headliners, Coachella 2022 still managed to deliver a celebration of sound, dance, and lights, having armed itself with Harry Styles, Billie Eilish, The Weeknd, and Swedish House Mafia.
Let's dive into a bunch of special moments to remember from the second weekend of the festival.
Billie Eilish Brings Paramore's Hayley Williams on Stage
For Paramore's iconic singer Hayley Williams it was the first Coachella ever, and she shared the stage with the festival's youngest headliner so far, Billie Eilish. And guess what they performed.
Hell yeah, 'Misery Business' may be over 10 years old, but God does it feel so good!
The 2007 hit has had an interesting journey, given that Williams previously distanced herself from it over 2018 debates that it delivered a supposedly "anti-feminist" message. It looks like things have changed, though. Eilish and Williams also delivered an explosive performance of Billie's single 'Happier Than Ever'.
Harry Styles & Lizzo
Harry Styles, after having rocked the crowd on weekend one, has elevated things quickly, bringing Lizzo to join him on stage and cover Gloria Gaynor's 'I Will Survive'. And it seems that it was a dream-come-true scenario for fans, who were left ecstatic after the performance.
Gaynor herself winked at Styles on Twitter following the performance, hinting that he might have forgotten somebody.
Harry's iconic 'whale' also made an appearance during his Coachella set.
The Weeknd Shade
There was a certain someone who opted for shading the Coachella crowd. Seriously, though, were they trying to end the night right then and there?
However, people online were okay with Abel shading the crowd, agreeing that it definitely did not give the performers – not just The Weeknd – the energy they deserved.
Besides, looks like the weekend two crowd has learned the lesson. This time, they even called out his name (see what we did there?).
One girl even got to listen to that song delivered by Abel specifically for her.
The set by The Weeknd and Swedish House Mafia officially closed the 2022 Coachella festival, leaving us scrolling through the pics and clips from the show and bracing for yet another music frenzy next year. What can we say? Kanye, you missed a lot!