Daniel Radcliffe Refused to Reunite with Emma Watson in a Movie He Deemed 'Sh*tty'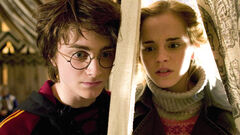 The great Hogwarts reunion never happened because, unlike Watson, Radcliffe hated the movie they were supposed to star in. The Hermione actress still did it, though.
Ever since the last Harry Potter movie came out, fans have been eagerly awaiting the lead stars' reunion in some other movie. To the audience's utter disappointment and against all odds, Daniel Radcliffe, Emma Watson, and Rupert Grint have been successfully dodging such opportunities for many years now.
However, there was at least one instance when Radcliffe and Watson could've worked together — and they would've if not for Dan being too classy and picky!
Both actors were invited to join This Is the End, Seth Rogen and Evan Goldberg's comedy horror about the way Hollywood stars would meet the apocalypse. Daniel Radcliffe and Emma Watson had two very different reactions to its concept, though.
"'All the actors are playing themselves, and it's going to be the end of the world…and they want you in the movie.' I'm like, 'What? Why? How?' I had so many questions. I just remember reading it and thinking it's hilarious, I thought it was the most crazy, absurd premise for a story I'd ever heard. I had to do it," Watson shared with Flicks and Bits.
Daniel Radcliffe, however, was not amused by the movie's concept whatsoever.
"Two years before we brought it to anybody else, we brought it to Daniel Radcliffe and he rejected it because it was sh*tty, it wasn't good enough. It was a bad early version. He taught us a lesson. We learned something from him that day. <...> And so we changed it all," director Evan Goldberg told BuzzFeed.
In the end, even though he rejected the offer, Daniel Radcliffe helped This Is the End's team to improve the movie dramatically. Unfortunately, we still haven't gotten to see Emma, Dan, and Rupert's reunion, but as they say, the night is still young — and so are the Golden Trio actors. Perhaps, they'll still give us such a treat someday.
Sources: Flicks and Bits via Digital Spy, BuzzFeed