Deleted Harry Potter Scene That Would Instantly Turn It Into Adult Movie Feels Illegal to Watch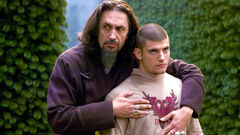 Was there sex in Hogwarts? Yes, according to this axed scene from The Goblet of Fire.
If you are just as confused as we are, you have probably never treated yourself to some extra footage that never made it to the final cut of Harry Potter and the Goblet of Fire.
Aside from the innocent stuff, there is one particular scene when Harry decides to take a breath of fresh air during the Yule Ball, only to suddenly interrupt a make-out session in one of the corners of the castle, and then to almost witness someone messing around in a carriage.
One could say they were making out, too, but let's be honest — it's the senior Hogwarts years we're talking about, and it's the middle of a school party. If the scene made it to the final cut, a certain part of Harry Potter's childish magic would be immediately ruined.
Take a look for yourself. We promise it's pretty decent after all, even though it does feel illegal to watch.
The fact that Snape and Karkaroff end up being the ones interrupting the steamy session in the carriage only makes it even more cringeworthy and hilarious. This truly feels like some fanfic material, so we get why they decided to remove the scene from the movie.
However, we must admit that the scene could also make The Goblet of Fire feel much more authentic and true-to-life, because honestly, who believes that every Hogwarts love drama was pure and innocent?
Now we lowkey want a Harry Potter reboot with a Euphoria sprinkle on it. Which also feels illegal to even ponder, considering that HBO is currently working on an actual Harry Potter reboot, and this joke might as well end up being a reality.