Emily Blunt Wasn't John Krasinski's First Dating Pick; It Was Her Famous Friend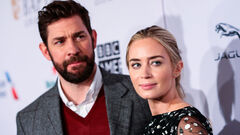 Today, John Krasinski and Emily Blunt are Hollywood's favorite couple — but initially, it was an entirely different Devil Wears Prada star he had his eyes on, not his wife.
The movie industry is ever-changing, and many actors and actresses rarely stay together for a long time. They grow together and break apart every few years, and sometimes it's almost considered a Hollywood-wide tragedy, like with Brad Pitt and Angelina Jolie. Still, this is how the industry is — but some actors don't play those games.
Wholesome, beautiful, and witty couples like that of John Krasinski and Emily Blunt still exist even in this business, and they are largely adored by the audience and other celebrities alike. They radiate happiness and harmony, proving that even in the movie industry, people can still find each other, stick together, and have a great life.
However, it's also this exact couple that almost never happened!
During their 2018 appearance on The Graham Norton Show, Krasinski and Blunt revealed the former's addiction to the movie Devil Wears Prada that, among others, rocket-launched his wife's career. But apparently, it wasn't Emily Blunt who became Krasinski's sweetheart at the time of the movie's release, not at all!
"There's a sort of montage sequence where Anne Hathaway's got numerous fabulous outfits that they go through. And John, one day I came home, and he was watching it, and he was watching the montage bit. And he goes, 'That's my favorite outfit!'" Blunt shared on the show.
John Krasinski, who'd previously stated that he'd rewatched Devil Wears Prada around 72 times, immediately explained the reason for his interest in the movie. His favorite outfit scene was a hint — he was initially enamored with Anne Hathaway!
"I couldn't get Annie, and so I was like, 'Ohhh…'" Krasinski quipped in reply.
Despite his failure to date the Devil Wears Prada lead star, The Office actor still found his love among the cast of the movie, and they look happier than anyone else in Hollywood. And Anne Hathaway, Emily Blunt's good friend, is seemingly more than content with her personal life today, too, so everything is good with this trio.
But do you think Krasinski and Hathaway would've worked out?