Ever Wondered What Voldemort Was Wearing Under His Cloak? Ralph Fiennes Got an Answer for You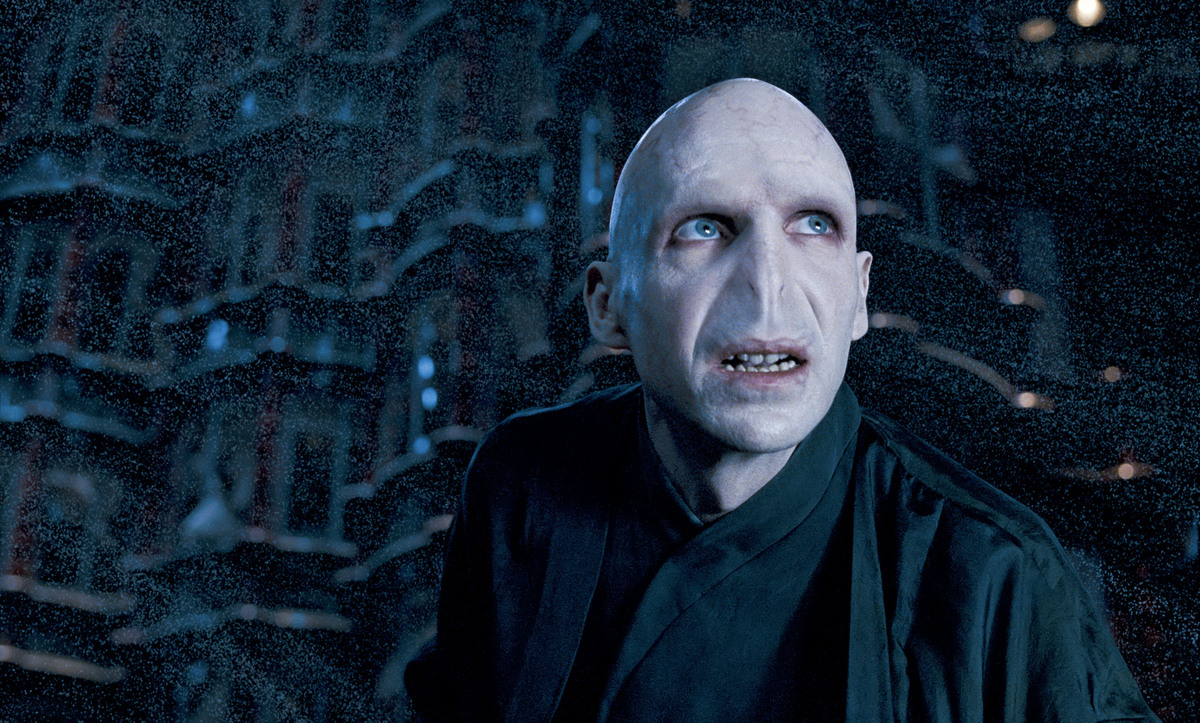 If you're up on your Harry Potter & The Cursed Child lore, you know that sometime around Order of the Phoenix Lord Voldemort and Bellatrix got busy and conceived a baby (ew, ew, a thousand times ew).
Delphini was orphaned when both parents died at the Battle of Hogwarts and grew up to wreak havoc for the next generation of Hogwarts students. The most important takeaway here? The fact that the Dark Lord can't be the sexless plastic Ken doll that we all assumed he was under those robes.
But what exactly IS under the robes? Well, the books don't give us any clues – but Ralph Fiennes can.
The British actor played Voldemort in all of the Harry Potter films, and he revealed that while he started off wearing tights underneath his robes, the crotch of the garment often sagged to his knees and prevented him from moving freely. He found the tights "irritating" and wanted to stop wearing them. However, the costume department didn't want to see Voldemort's bare shins whenever he walked, so they wanted a layer underneath the robes that was tight-fitting and unobtrusive.

So When (and Why) Exactly Fantastic Beasts Went Off The Rails?
The solution? They nixed the full set of leotards, but Voldemort's legs remained covered thanks to a pair of… garters!
That's right, the Dark Lord might not have a nose, but he does have some very fetching underclothes, albeit ones traditionally reserved for Muggle ladies. Apparently the costume change did the trick, keeping the visible parts of Voldemort swathed in black while allowing the actor to move freely.
Hilariously, Fiennes went on to admit that sometimes,
"When the stunt team were getting too macho I would tease them with my inner thigh."
Fiennes played Voldemort for the first time in 2005's Harry Potter and the Goblet of Fire and appeared in three more movies. He's since expressed interest in appearing in more Harry Potter content, should there be an opportunity.

We Can't Believe These Saucy Harry Potter Lines Made It Past the Censors
The Harry Potter universe spawned eight movies, followed by three more in the Fantastic Beasts series. Harry Potter and The Cursed Child is a stage play that's been a hit around the world and features Voldemort's daughter Delphini. While it would take an awful lot to reunite the original Harry Potter cast (Daniel Radcliffe and Emma Watson are particularly busy these days), at least we know that The Dark Lord is up for a new adventure should Cursed Child ever make it to the silver screen.
Hopefully, the costume department at Warner Brothers kept those garters!