Fans Call to Bring Matt Ryan Back Ahead of Keanu Reeves 'Constantine' Sequel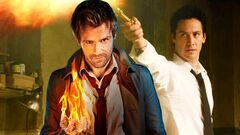 Even though Reeves was the first actor to portray the iconic DC exorcist in a movie adaptation, many people think that the 2014 TV series simply did it better when it comes to casting.
Now that Keanu Reeves is set to arm himself with holy water and silver bullets once again, fans seem to actually be rooting for another John Constantine actor to return — Matt Ryan.
The 2014 TV series starring the actor turned is appreciated by fans up to this day to its comic accuracy. Unlike Reeves' character, Ryan's Constantine is as canon as he could possibly be: a blonde British guy rocking an iconic beige trench coat. Reeves' exorcist who appeared on screens in 2005 was not as comic accurate, with the movie coming up with its own story rather than following the DC comics.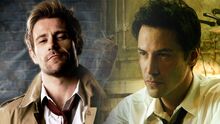 Matt Ryan Stans Are at War over 'Constantine' Sequel
But, unlike the TV series, the movie is now greenlit for a sequel, while Ryan-led show got cancelled after just one season. And many 'Constantine' fans have rendered it unfair.
"Matt Ryan is and always will be Constantine no matter the medium," Twitter user jwilliams051197 argued.
With Reeves' Constantine back on track, it's unlikely Matt Ryan will ever put that beige trench coat on once again, and fans are understandably frustrated.
"As much as I love Keanu and the 2005 film. Matt Ryan is the best Constantine and I'm incredibly frustrated the show has been cancelled. It didn't get a chance 1st time around, Ryan was fantastic as Constantine on other shows (crossovers) but should have gotten his time to shine!" – @EImaj2012
Unable to wrap their minds around the TV series' death, fans are calling on another chance for Matt Ryan as Constantine. According to many people, Ryan was the "perfect" casting, while Reeves just fails to embody the spirit of the actual character from the comics.
Still, the 2005 movie is loved by many as well, with some people even proclaiming it a "classic". Certain fans even chose to believe that Reeves' Constantine is a variant, and the events of the movie are taking place in an alternative dimension.
"When it first came out, someone in a chat group suggested that the differences are because the story takes place in an alternate dimension somewhere in the multiverse. I was able to enjoy the movie with that in mind." – @0ldSch00l13
Reeves will reunite with director Francis Lawrence for the upcoming sequel. Keanu himself said that he "loved that world" and "that character", so the sequel news is not as shocking as some people perceived it to be.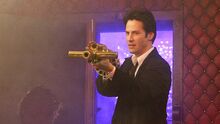 Keanu Reeves-Led 'Constantine' Sequel is the Worst Idea Ever
As a character, John Constantine has a pretty dramatic path when it comes to cinematic adaptation. Most recently, many people believed that the character was gender-swapped in Netflix 's 'The Sandman ', even though the showrunners confirmed that their Johanna Constantine was a standalone character, not a gender-swapped version of John.