Fans Praise SHINEE's Key For the Most Extraordinary Comeback of 2022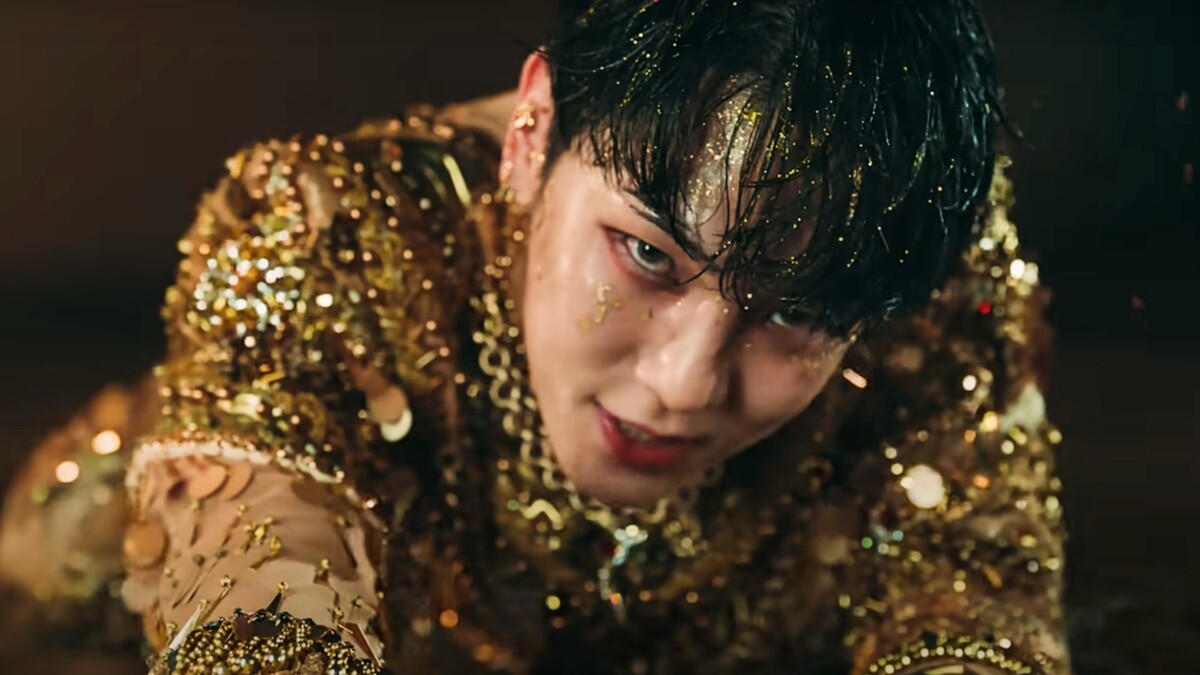 He is so iconic for this.
Fans have all the reasons to claim that KEY's 'Gasoline' is a legendary comeback. If you watch every K-pop music video released in 2022, this artist's visuals and performance immediately stand out. From the first seconds, 'Gasoline' MV already makes everyone's jaw drop. Starting from concept and outfits to the choreography and vocals, Kim Kibum (also known as Key) showcased his immense creativity in every respect.
In the latest comeback Kibum has continued to create his own universe. This time he appeared as a confident demigod, impressing fans with his marvelous costumes and out-of-this-world VFX shown in the music video. According to the artist himself, this image of a non-existing God was partially inspired by Xerxes from the '300' movie. Kibum said he wanted to appear as a transcendental character with their own empire.
The K-pop industry is known for high-budget set designs and amazing visual composition, however, Key has easily surpassed the expectations this time: each scene in his 'Gasoline' MV is spectacular and will make you want to pause the video every second. Kibum beautifully mixes both masculine and feminine moves in his dance routine. Unusual choreography supports his alien-like royal character, dressed in a majestic sci-fi costume.
Actually, in several majestic costumes with many detailed accessories. Each time Key appears with a different outfit on screen, the visual is no less than breathtaking. Just look at the artist being trapped in a steel cage in the darkness, bound by long chains and a thick rope that resembles a skeleton rib cage. As Key dances and sings, his clothing varies from Snow Queen's cold sparkling garments and a crown to a magnificent gold-like attire of a Desert King. Overall, his costumes are a fashion statement that keeps everyone in awe until the very last second of his performance.
"He's actually the only one doing anything visually creative and new in kpop rn." – @yukifruity
What made the fandom go absolutely crazy is the fact that Kim Kibum was the one behind every decision of his comeback's concept and style. In a previous post we mentioned how Key doesn't shy away from expressing his bold artistic choices, no matter how much he was criticized and doubted in the past. Now he is teasing and mocking everyone who disagrees with him in 'Gasoline's lyrics.
'Wooo, you are judging me? This is all I am. These threats fuel my evolution.' – Key
According to his interviews, the artist fought hard to be able to express himself in a way he wanted to. This comeback took a long time to create due to various reasons. For example, 27 out of 30 people at SM Entertainment's meeting voted against the song's title 'Gasoline', suggesting to use 'A-list' instead, but Kibum went with his own decision. He selected the tracks, chose the photoshoot concept and colors to be used in the outfit's designs. SM's staff also thought that the title song was too intense or aggressive but in the end they were convinced by Key and tried to support his decisions, matching the MV's editing with his desires.
Other SHINEE's members gave him a lot of support and encouragement as well. Key has also mentioned that Lee Sooman (SM Entertainment's executive producer) saw the music video Key wanted to create and loved it.
In the end, Kim Kibum managed to successfully push boundaries of K-pop industry and audience expectations. Another example of Key's unique creativity is a performance of his B-side track 'Villain' featuring NCT's Jeno.
Fans are happy to see Key getting more creative control and proud that he's able to stand up for himself, fully expressing his extraordinary vision in the new comeback.