For an Entire Harry Potter Book, The Golden Trio Was Unironically Hyping Voldemort Up
For a pretty solid part of Harry Potter and the Sorcerer's Stone, Harry and Ron were protecting and taking care of Lord Voldemort without realizing it, and it's pretty ridiculous as an afterthought.
In Harry Potter and the Sorcerer's Stone, it isn't until the very last conflict that we learn that Professor Quirrell has been the servant of the Dark Lord all along. Actually, we learn it together with Harry, and it's the main plot twist of the entire book: the good old Quirrell has an entire Voldemort peeking out the back of his head!
Until that point, the Golden Trio — much like everyone else — was considering him to be just a really shy but generally wholesome teacher. Even more than that, Harry and his friends were convinced that Quirrell was the one trying to protect the Sorcerer's Stone, and it was Severus Snape harassing him to gain access to it.
Thanks to all these smaller misconceptions, the three friends developed an even bigger — and way more hilarious — one: they decided that they had to step up and protect good old Professor Quirrell from all the meanies, and for the longest time, that was exactly what they were doing — making Quirrell's life comfortable and safe!
"Whenever Harry passed Quirrell these days he gave him an encouraging sort of smile, and Ron had started telling people off for laughing at Quirrell's stutter," J.K. Rowling wrote.
In hindsight, this is straight-up bizarre: Harry, Ron, and Hermione were actually protecting and taking care of Lord Voldemort and his vessel. The kids didn't know that at the time, of course — but we're mostly wondering what was going through Quirell and Voldemort's shared head thanks to The Boy Who Lived being so nice.
Didn't Quirrell hesitate at least a little bit? Didn't the thought that killing such a sweet child was unnecessary cross his mind? Wasn't Voldemort himself really confused?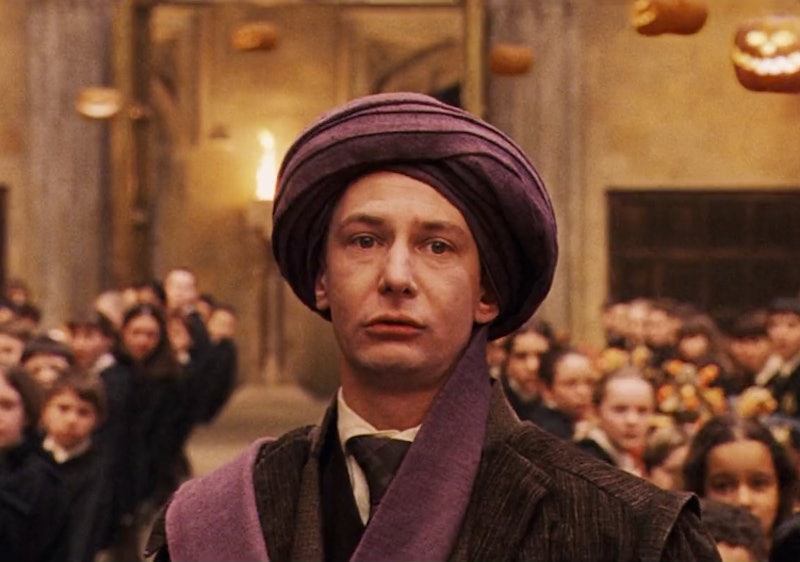 It would be fun to learn what was going on in that crooked head at the time, for sure. But we bet that even if there was some tiny sprout of remorse going on there, it was nullified with each snowball the Weasley twins threw at the back of Professor Quirell's head, and they threw quite a lot of those.
The frustration of being the most powerful Dark wizard ever and not being able to prevent getting repeatedly hit in the face with kids' snowballs must be unbearable.