'Heartstopper' Season 2 Renewal: Netflix is Asked to "Do the Right Thing"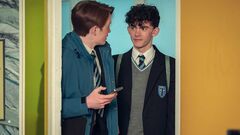 'Heartstopper' potential renewal, according to Forbes, is surprisingly important – not just for fans, but for Netflix itself.
A very peculiar Netflix tactic when it comes to renewal or cancellation of its shows was recently mentioned by Forbes' Paul Tassi. 'Heartstopper ' is far not the first hit series ending up in "renewal Limbo": there were lots of other shows, seemingly popular high-rated on Rotten Tomatoes – Babysitter's Club, Archive 81, Teenage Bounty Hunters to name a few – that ended up being cancelled despite all the success.
It seems that 'Heartstopper' got everything it needs to be renewed for the second season. Source material – check; rather vocal and enthusiastic fandom – check; low enough production costs, critics' recognition, perfect ratings – you name it, they got it. And yet, 'Heartstopper' fans (and the series' cast) found themselves waiting, and waiting, without a word from Netflix execs about the show's future. One of the reasons, as Forbes' article suggests, is Netlix global strategy, driven by subscriber growth.
Rachel Shukert, whose 'The Babysitter's Club' got cancelled by Netflix after ending up being in a similar position as 'Heartstopper' right now, put it this way, according to Vulture:
"As far as I can tell, everything Netflix does is based on how it's driving subscriber growth. The truth is that when your show does very well in North America, as ours does, as far as Netflix is concerned, pretty much everybody who's going to have Netflix [in North America] has it. They're looking to drive subscriber growth in other parts of the world where this IP doesn't have much recognition."
Meanwhile over on Twitter fans are trying to get the hashtag #RENEWHEARTSTOPPER trending, hoping that it will somehow persuade Netflix to actually greenlit a second season (and maybe give Olivia Colman 's Nick a bit more of screentime).
As 'Heartstopper's breakthrough star Joe Locke reminded us recently, "there are three more graphic novels too." So basically Netflix got everything it needs to greenlit a second installment, and at this point we'll just have to wait a little bit longer.