Here's Why BE'O Cried Hearing Beenzino's Rap in Counting Stars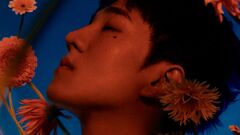 It wasn't just because the artist he respected a lot has agreed to participate in his song.
In Korea, hip-hop is mostly considered an underground genre, and there is a clear separation between underground and idol rappers. However, over the past few years the line has gotten more blurry, as many hip-hop rappers dive into singing style. BE'O is one of these artists. He attracted the general public's attention with his soulful singing and sincere, catchy lyrics. The rapper himself says that he doesn't mind if he gets called 'an idol rapper', which is usually used as an insult by an underground hip-hop community, because that means people find him good-looking.
"I think that's great that he makes this bridge between the "idol world" and "hip-hop world" - PieceOfHope
BE'O's song Counting Stars has reached #1 on Korean music charts and became a viral hit after the artist performed it on a competition show for underground rappers Show Me The Money 10 (SMTM10).
BE'O considers Counting Stars his most meaningful, signature song. On the YouTube show Look Me Up he shared the story behind this track. Turns out, Counting Stars wasn't originally written specifically for SMTM10, BE'O wrote it on a day when his grandpa was admitted to a hospital. Seeing a lot of stars that day made him think about many serious things in life. He transferred these feelings into lyrics.
The personal story behind Counting Stars' creation is also a reason why BE'O sometimes feels annoyed seeing parodies of his song, but he finds them funny as well. People liked this song so much they requested an official release after SMTM10, and after some time BE'O released Counting Stars featuring famous rapper BEENZINO.
On the Look Me Up show the artist also revealed how he managed to make this collaboration happen. BE'O was a huge fan and he always wanted to rap with Beenzino, but there were no opportunities. However, during one of the livestreams, a fan asked Beenzino if he heard BE'O's viral song. Beenzino confirmed that he heard about the 'Louis Vuitton guy' (referring to Counting Stars lyrics). He also complimented BE'O's voice and lyricism, adding that he became a fan. When fans asked whether he'd like to collaborate with BE'O now, Beenzino responded positively, which encouraged the rookie rapper to reach out to him. Eventually, their collaboration saw the light as Beenzino wrote his own verse for Counting Stars official release.
BE'O shyly admitted that he already saved the video as his precious possession. He respected Beenzino and his works so much that he even cried a little while listening to the recording that the artist sent him. Beenzino's part in Counting Stars had many autobiographical references, which resonated with BE'O's grandfather story and touched his heart.
The rapper also praised Beenzino's other lyrics. He found the 'I became nasal from holding back tears' line very realistic, however, in his opinion, Beenzino managed to make such an expression touching.
BE'O also addressed rough mixing in Counting Stars which some listeners complained about. He said it was done deliberately to leave a feeling of listening to this song as an audience during the performance. Even though the general public wanted to hear a cleaner version, BE'O insisted that this is exactly the version of a song that he wanted to see.