Hunger Games Director Ready to Make a Finnick or Haymitch Spin-Off Under One Condition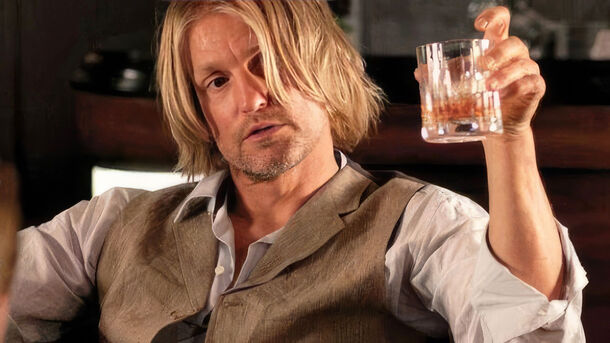 With the upcoming The Ballad of Songbirds and Snakes, Hunger Games fans are already dreaming about other new spin-offs — and the director is down for that!
When the genre of young adult fantasy saw a huge surge in popularity in the 2000s and 2010s, there were numerous new franchises emerging every month — but few of them managed to achieve such success as The Hunger Games. Based on Suzanne Collins' book series of the same name, these movies took over the world.
The four Hunger Games films collected quite a delightful harvest of almost $3B worldwide and jumpstarted the acting career of one of our most beloved actresses — Jennifer Lawrence. Having been a massive success, the Hunger Games universe quieted down for several years after the last movie until recently resurfacing with a spin-off.
The upcoming The Ballad of Songbirds and Snakes will reveal the backstory of the man known to us as President Snow, the archnemesis of J-Law's Katniss Everdeen. With the premise sounding as exciting as it does and the franchise finally coming back to life, Hunger Games fans are already striving for more new spin-offs!
Among the most requested ones are prequel spin-offs about Haymitch and Finnick, two of the most popular characters from the original series. And director Francis Lawrence is down to make them!
"If Suzanne has another thematic idea that she feels fits into the world of Panem — whether that's with new people [or] familiar characters [like] Finnick, Haymitch, whoever — I'd be really interested in looking at it and being a part of it," Lawrence told EW.
However, the director doesn't want to make a spin-off for the sake of making a spin-off. Lawrence will only undertake such a project if it has true substance. We couldn't agree more!
"I don't have any pull of just going, 'I would love to do Finnick's games.' He's a great character, but what's the thematic underpinnings that make it worth telling and relevant?" Lawrence explained.
This revelation gave us hope that one day, we might finally see young Haymitch Abernathy absolutely dominate the Second Quarter Quell… and suffer the terrifying consequences of his pride. This is truly the one prequel spin-off we've all been asking for since the very first Hunger Games movie came out, and we're excited now!
Source: EW