Insane Reason Disney's Brenda Song Wasn't Allowed To Audition For Crazy Rich Asians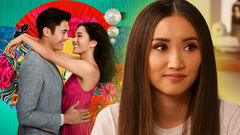 Children stars don't always have it easy.
Ever since Disney made a huge platform for giving young talent a chance to shine and boot-start their entertainment career, there has been a discourse about whether it is right or not to subject kids to all the hardships of the industry.
While there are many adult actors and singers who fell victim to horrible Hollywood standards, kids were always even more vulnerable and needed even more protection. Unfortunately, there weren't always responsible adults around to help them navigate the cruelty that they sometimes faced.
Though many Disney stars grew up to have rather successful careers, still working in the industry they adored, on their own terms, some have struggled to book new roles. Brenda Song, for example, was very candid about how Disney's past became the reason that stopped casting directors from even giving her a chance to audition.
The star of The Suite Life of Zack & Cody and Wendy Wu: Homecoming Warrior has shared her experience in an interview with Teen Vogue back in 2019. Turns out, she was blatantly rejected from trying out for the role in Golden Globe-nominated Crazy Rich Asians, despite being a fitting candidate to portray a few characters and a huge fan of the books.
"A lot of people don't know this, but I never got to read for Crazy Rich Asians, ever. Their reasoning behind that, what they said was that my image was basically not Asian enough, in not so many words. It broke my heart. I said, 'This character is in her late to mid-20s, an Asian American, and I can't even audition for it?' <...> I was like, 'Where do I fit?'" the actress recalled.
Although such a tough rejection did take a toll on the actress' mental health, she was able to take some time off and get back to auditioning with a mindset stronger than ever. After that, Song was able to land herself a voicing role in the animated series Amphibia, and a leading role in Hulu 's two-season show Dollface.
If you want to see Brenda Song in a more recent role of the PR expert Madison Maxwell, you can go ahead and stream Dollface on Hulu.
Source: Teen Vogue