Jeff Bridges Spills on Surviving the No-script Chaos of MCU's Ice-breaker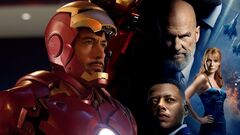 If you want to make a great movie with a great cast, you may not need a script.
At least that is how 2008's Iron Man was made (almost), which turned out to be a smash hit and grossed over $585 million at the box office, becoming the cornerstone of the successful Iron Man franchise and ushering in an era of the MCU universe as we know it.
One of Iron Man's stars, Jeff Bridges, told The Howard Stern Show that he was shocked to learn there was no script when he arrived on set.
"This was so amazing. 200 million dollars or whatever the thing cost, you think they would have a script, but no! So here we are, coming to work, and I like to be prepared, I like to know my lines, otherwise I'm super nervous, you know. And so we would often come to work and there'd be no script for the scene today," the Obadiah Stane actor revealed.
He said they would gather in his trailer with Favreau and Robert Downey and the guys from Marvel. Bridges recalled how they switched roles with RDJ to play each other.
"Favreau would be calling writer friends of his and he'd be like, 'Okay, so here's the scene, now you got any ideas?" the actor said, joking that the crew on set would tap their feet as they were ready to get to work.
He also admitted that the only thing he had to do to stop worrying was to change his approach to filming, which worked pretty well.
"Jeff, would you please relax, you're making a $200 million student film. Just have fun!" the actor told himself.
When Howard Stern asked Bridges how come there was no script at all, the Iron Monger actor said they managed to come up with a sort of script, only to scrap it completely afterward.
"Something was on the page but it was the wrong something. They showed us the script. We worked for 2 weeks. Three of us going over the whole thing. Coming up with some exciting stuff and changes. And then a day before shooting they said 'No, this is no good.' and threw it all out," Bridges recalled.
For him, of all the superhero movies, Iron Man is the best because "it's Downey, man, and Favreau," as he put it.
Even with all this going on, with Marvel people around, Downey and Favreau weren't stressed. They masterfully navigated the waves and did not allow themselves to get pressured.
"[Robert Downey Jr.] just surfed the big wave so beautifully. He's a master actor. He's a master improviser, as is Favreau. So when we just jammed and had fun and great stuff bubled out of it. And Favreau, what was so great about him was that as the director, you can imagine the pressure, but he was able to keep this thing cooking, with the suits in the room with us… He was just surfing the whole thing so beautifully," Jeff Bridges explained.
The first Iron Man movie paved the way for the incredible success of the Iron Man franchise. Iron Man 3, released in 2013, grossed $1.2 billion, making it the second highest-grossing film of the year. It also became the sixteenth film to gross over $1 billion. In total, the franchise has grossed approximately $2.4 billion worldwide. What more proof do you need that a "student film" can make you rich?