Meghan Markle Teases Her Podcast 'Archetypes'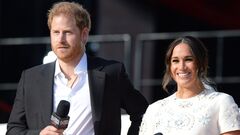 The Duchess of Sussex podcast will be released with the help of Spotify and Meghan and Prince Harry's production company Archewell Audio.
For those who have been waiting on Meghan Markle to launch her Spotify podcast, here goes: it's called 'Archetypes', and its teaser is already available on the streaming platform.
According to Markle, her podcast will weigh in on the stereotypes around women and female narratives.
"This is how we talk about women: the words that raise our girls, and how the media reflects women back to us, but where do these stereotypes come from?" she wonders in the teaser. "And how do they keep showing up and defining our lives?"
Meghan's podcast will also be aimed to "dissect, explore, and subvert the labels that try to hold women back."
And the fans can't wait to hear from her.
Seems like many think that Meghan's voice is just right for the podcast world.
Prince Harry and Meghan Markle teamed up with Spotify back in 2020 to create their own product after the couple stepped away from their royal duties in the UK and moved to North America.