Not Just Wolverine: New Deadpool 3 Report Teases the Return of Another Logan Character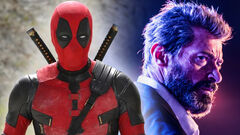 According to insiders, Hugh Jackman's Wolverine is not the only beloved Logan character to make an appearance in Deadpool 3, and fans are excited about it.
Amid the pretty tame MCU 's movies, the Deadpool franchise has always stood out thanks to its higher rating which allowed for obscene language and jokes and copious amounts of gore on the screen. The first two movies were immensely successful, so now, the public expects nothing less from the finale of the franchise.
As Deadpool 3 is fast approaching, more and more rumors and speculations start popping up, and the movie industry's insiders are growing restless. We can clearly see why, too: after the previous big revelations about the third installment, it became clear that Deadpool 3 has quite a few aces up its sleeve to up the ante in the finale.
We already know that Hugh Jackman, the iconic Wolverine actor who's been at it since 2000, will reprise his role in the Merc with a Mouth's last adventure. This was an unlikely development since Jackman swore to never put on the adamantium claws again — but here we are today, and this update inspired hope in fans.
Of course, it only enticed insiders to keep digging.
"Sources have newly confirmed that Marvel went into negotiations with Dafne Keen right before the strikes started to bring her back as a grown-up Laura Kinney/X23 in Deadpool 3. <...> It's not a significant role, expect it more to be a cameo," wrote a famous Hollywood insider CanWeGetSomeToast on their X (formerly Twitter) account.
Coupled up with all the previous reports, including those of Sabretooth and Magneto being featured in Deadpool 3, Ryan Reynolds 's final outing as the Merc with a Mouth begins to look more and more like a happy X-Men family reunion. But seeing how Marvel intends to relaunch the latter franchise, it could be their intent to begin with.
Of course, we can't be sure whether any of these unconfirmed insights are true or not — the only character we know for a fact will appear in Deadpool 3 is Wolverine himself. This alone is enough to keep Marvel fans hyped up, but since cameos and crossovers are something of a meta now, we can likely expect more guests in the movie.
Source: CanWeGetSomeToast