Quentin Tarantino Absolutely Despised Keanu Reeves' The Matrix Sequels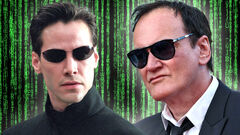 Back in the day, Quentin Tarantino fell in love with the first The Matrix movie — but when he got to watch the sequels, the iconic director was straight-up infuriated.
Throughout Keanu Reeves ' long and fruitful career, the actor's been part of several top-tier franchises, but to this day, The Matrix movies remain his most iconic performance even despite the overwhelming popularity of his John Wick films. The Matrix is the staple and the highlight of young Keanu Reeves' acting career.
The Matrix turned out to be one of those movies that received cult-classic status immediately after its release.
It's still cherished as one of the best films (or trilogies, at that) to have ever existed, and not just by the critics and the general public: even legends like Quentin Tarantino paid their tributes to this outstanding franchise.
"I saw the evening show [of The Matrix] at the Chinese theater on the Friday that it opened. I remember the place was jam-packed and there was real electricity in the air. <...> It was a profound experience and I had enough foresight to put the thoughts together before the lights went down," Tarantino told the Far Out magazine.
However, as often happens with such popular franchises, after a phenomenal movie came some mediocre sequels. For The Matrix, this tragedy struck after the main trilogy was completed, and even many years later…but Keanu Reeves' comeback as Neo received a widely negative reaction. From most people, that is.
Quentin Tarantino, for his part, was straight-up infuriated with it.
"You know, my guys are all real. There's no computer f*cking around. I'm sick to death of all that sh*t. This is old school with f*cking cameras. If I'd wanted all that computer game bullsh*t, I'd have gone home and stuck my d*ck in my Nintendo," the iconic director angrily told Empire.
Apparently, Quentin Tarantino is not a big fan of CGI — who would've guessed? But in the case of The Matrix, the Reservoir Dogs director appeared genuinely pissed off and frustrated, and we can totally see why. When your favorite and beloved franchise gets randomly butchered, it's always hard to deal with.
Even if you're a moviemaking legend in your own right.