Teen Wolf: The Movie Was a Total Surprise to Dylan O' Brien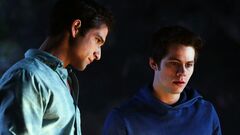 Any hope fans of Teen Wolf held out that Dylan O'Brien would reprise his role for the upcoming Teen Wolf: The Movie has long been dashed.
The film is already in the can and slated for release in 2023. For the better part of 2022 fans have been subjected to a confusing and maddening game of "will he or won't he." As it turns out, he won't, but his Jeep will. That's right. The actor said producers requested the use of O'Brien's Jeep for filming.
O'Brien has remained rather hushed for several months when asked about the movie. Maybe he's being polite and diplomatic or maybe he just simply doesn't know much about the movie since he isn't part of the cast. The most he's said about the subject was during an interview for Vanity Fair, admitting how the whole idea of getting the gang back together for a movie was a surprise for him.
"It was something I was trying to make work but it all happened very fast. We didn't really know that it was happening and they kind of just threw it at us a little bit"
Infer from that what you will, but the actor doesn't seem to be the least bit fazed about not appearing as Stiles for the movie. O'Brien's been busy filming and promoting other projects.
His responses in the Vanity Fair interview left some with the impression he'd been asked to reprise his role for the movie but turned it down.
O'Brien noted the project seemed a bit rushed. Perhaps he thought a rush job would result in the film being unflattering to his acting.
His co-stars have been quick to say they all miss him and wished he was there. The movie's executive producer, Jeff Davis, has said he'd like to work with O'Brien again for a possible spinoff. Of course, the chances of that happening depend heavily on how well this movie is received.
Another thing O'Brien mentioned was that once he heard the movie was being made, it was clear they wanted to begin filming straightaway. At that time, he was already working on other projects and producers were unwilling to wait until he wrapped those. If they weren't willing to work with him to find a solution, they didn't want him very much.
It's refreshing to see someone unwilling to compromise on what they feel is important. In an age where nearly everyone wants fame and fortune, there are still people out there who don't make that their top priority. Dylan O'Brien should be lauded and applauded.