Get us this close-up right now.
'Thor: Love and Thunder' has provided us with the knowledge that God of Thunder has several tattoos now, including the one that is apparently made as a tribute to his brother Loki.
But it turns out that Loki was not the only one who was perpetuated on Thor's back. Some sharp-eyed Marvel fans on Instagram zoomed in on the shot of the tattoos, and it seems that Thor was pretty sentimental when he was getting inked. On the side of his back, there is a list that mentions people who were close to Thor and died.
Aside from "mother" and "father", as well as Loki, we can spot Heimdall, Tony and Natasha. It's a nice nod to the two Avengers who made an ultimate sacrifice to defeat Thanos in 'Endgame', and Heimdall, who was killed by the Mad Titan at the beginning of 'Infinity War'.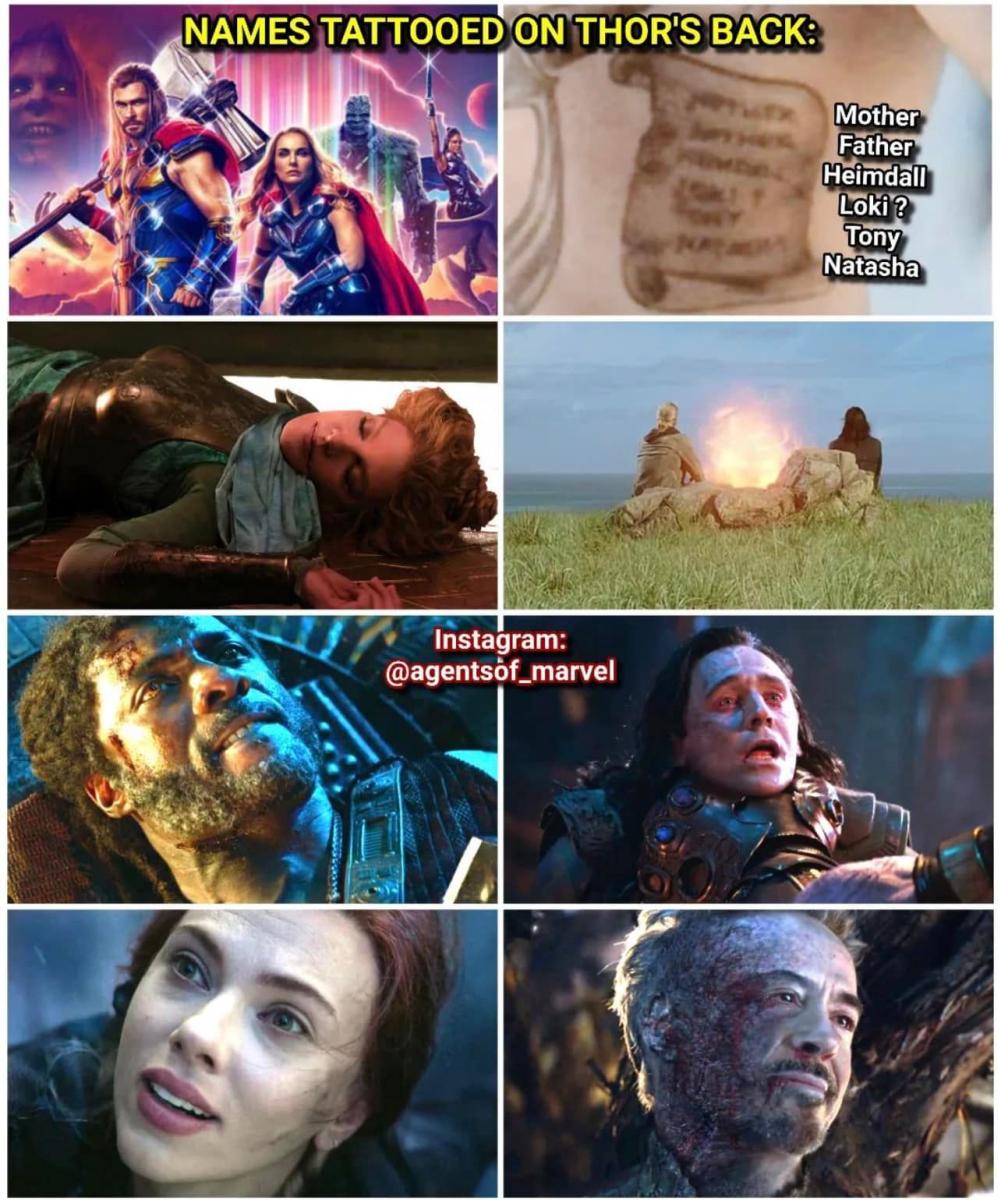 However, the Easter egg has prompted mixed reactions among fans. While some praised the creators for including a tribute to the fallen heroes, others argued that Thor, who has been around for more than a thousand years, would hardly tattoo the names of the people he just met instead of, say, the Warriors Three.
"Putting Tony and Natasha is like getting tattoos of people you just met over the weekend. Thor is 1500 so the seven years he spent with the Avengers wouldn't feel like a long time. The Warriors Three deserve to be on it instead," one of the fans mentioned on Twitter.
Besides, if Tony had shared a couple of bonding moments with Thor, Natasha and God of Thunder had barely talked to each throughout the movies.
But some people argued that it's not about how much time Thor spent with them, but rather about the sacrifice that Iron Man and Black Widow made.
"At no point did Thor face a threat that extinguished half of life in the entire universe. This threat was only defeated due to the sacrifices of Tony and Natasha. The length of time together doesn't matter." – @ManOnDaSilvrMT.
'Thor: Love and Thunder' is currently in cinemas, albeit facing a dramatic box office drop after successful start.