There Were Lots of Great Actors in Harry Potter, But Only One Made Radcliffe Laugh Uncontrollably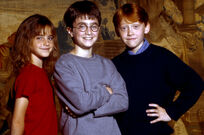 Daniel Radcliffe saw a lot of growth as an actor over the ten years he played Harry in the wizarding franchise.
Not only did the eight films launch the acting careers of many young talents, but each film also starred various esteemed actors and actresses. Including recognisable names such as Richard Harris, Maggie Smith, Alan Rickman, Robbie Coltrane, Ralph Fiennes, Helena Bonham Carter, Gary Oldman, and many more. Yet, according to Radcliffe, only one actor really made him laugh on set, and it was Dumbledore himself.
According to an interview with GQ, the Harry Potter star admitted it was Dumbledore actor Michael Gambon who was the most hilarious on set.
Gambon, allegedly, would purposefully make Radcliffe laugh right up until the scene began and they would shout action. Making it difficult for the young actor to complete the scene and get back into character.
As frustrating as Radcliffe admits this made him, he admires Gambon's talent as a fellow performer. As Radcliffe states, he can jump from normality to straight into a scene with his renowned level of inherent gravitas and charm. A skill that apparently Gambon may have cheekily used to distract Radcliffe purposefully during filming.
Gambon's skill as an actor is not to be underestimated. The Irish-English actor is regarded as one of the most distinguished in his field. Mentored by Laurence Olivier, Gambon quickly became prominent in both theatre and film at the start of his career. Gambon succeeded the role of Dumbledore from Richard Harris, in the third film of the series 'The Prisoner of Azkaban'.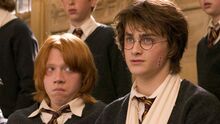 WB Had an Ultimate Wizarding World Franchise, Ruined It Completely
He immediately made his mark on the character, receiving praise for his interpretation of the character that fitted well with the later films of the series.
However, Gambon isn't the only actor on set that Radcliffe praises highly. Giving a similar level of credit to his fellow cast members, including Imelda Staunton (Dolores Umbridge), David Thewlis (Remus Lupin ), and Gary Oldman (Sirius Black). Noting they all had an admirable skill of chatting naturally before 'turning it on' in an instance.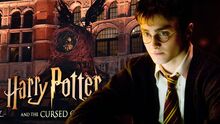 Should Harry Potter and the Cursed Child Be Made Into a Movie?
Clearly, the Harry Potter films were as enjoyable to make as they are to watch. The young stars are delighted to have had the opportunity to learn from some of the most accomplished actors in the industry. Although, considering how much of the cast consisted of teenagers, it's not surprising there was some room for fun and humor. We know now, according to Daniel Radcliffe himself, even the acting greats are inclined to have some fun every now and then.