This Actor Was Almost Cast as Cable In 'Deadpool 2' Instead of Josh Brolin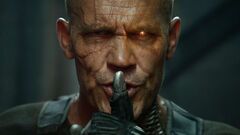 The movie that grossed 785.8 million USD and became one of the highest-grossing films in Ryan Reynolds career could've worked out differently.
The role of Cable in 'Deadpool ' sequel interested many actors – including Brad Pitt himself, who eventually dropped out of the race for the role due to a busy schedule and limited himself to a tiny, though memorable, cameo. David Leitch, who helmed 'Deadpool 2' (and eventually got to work with Brad Pitt on 'Bullet Train'), talked at length about Brad Pitt's potential casting as Cable during CinemaCon 2017, claiming that the actor would make an amazing Cable. However, after Pitt there was another prominent actor who almost ended up being Cable and starring alongside Ryan Reynolds: Michael Shannon.
Rumors about Shannon's involvement in the projects had been going around for a while in 2017, before Josh Brolin casting was officially announced, with fans enthusiastically agreeing with potential casting. Back at the time 'Deadpool' fans believed that Shannon's take on the character, given how dark and brooding or at least deadly serious the actor often appears on screen, would be 100% accurate to the comics.
Turns out there were some truths behind those rumors after all: 'Deadpool 2' producer Kelly McCormick has finally confirmed that Michael Shannon was very close to getting the part.
McCormick, who got to work with Shannon on 'Bullet Train', told IndieWire that the actor was actually "almost" Cable, but then at the very last minute something happened – "some sort of hiccup conflict", according to the producer. Eventually the part went to Josh Brolin, who did a great job on bringing Nathan Summers/Cable to the big screen. So great, in fact, that the sequel surpassed the first movie in the box office, having grossed $785.8 million worldwide.